T-Mobile allowing subscribers to make free calls and texts to Ecuador through April 24th
5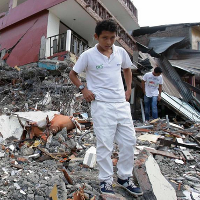 In the wake of a deadly earthquake yesterday that killed 75 people in Ecuador and injured 500, T-Mobile is going to allow its customers in the U.S. to contact people in the country via phone calls and texts for free from April 16th through April 24th. The quake was the biggest to hit Ecuador in 40 years. In addition to the loss of human life and the injuries, bridges, roads, phone lines and homes were damaged and destroyed.
According to the carrier, certain T-Mobile customers in the U.S. and Puerto Rico will be allowed to place calls and send texts to Ecuador at no cost. To take advantage of T-Mobile's largesse, customers must be subscribed to one of T-Mobile's Simple Choice postpaid or pre-paid plans.
The free calls to Ecuador are also being offered by some T-Mobile MVNOs such as GoSmart Mobile, and WalMart Family Mobile. T-Mobile's MetroPCS subsidiary is also offering the free calls and texts as well. The calls/texts will show up as regular charges on invoices, with an offsetting credit listed.
"To help our customers connect with loved ones, T-Mobile is making it free to call and text from the United States (including Puerto Rico) to Ecuador as the country recovers from a devastating earthquake. The offer applies to all T-Mobile Simple Choice prepaid and postpaid customers, as well as customers of MetroPCS, GoSmart Mobile, and WalMart Family Mobile. It is effective from Saturday, April 16 through Sunday, April 24. Customers will see regular charges on their bills with corresponding credits."-T-Mobile
source: T-Mobile