T-Mobile USA in talks with Clearwire about potential partnership?
3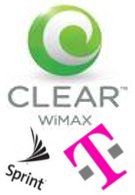 Imagine what the landscape would look like if Sprint and T-Mobile USA formed a partnership – the balance of power may change after
rumors
about Deutsche Telekom placing a bid for the third largest wireless carrier. There are many complications that can prevent such a deal to go through – the complete difference in wireless technology (GSM versus CDMA) is what stands out the most. Now there are reports about T-Mobile USA in talks with Clearwire for a potential partnership. Now this move makes a bit more sense because T-Mobile USA has yet to come into agreement as to what standard they will choose for their 4G network. Last in the race to get 3G up to speed here in the US, partnering with Clearwire would place them at an advantage partly because Clearwire already has an established WiMAX infrastructure. On the flip side, Clearwire would gain additional capital to continue building out its network across the country – providing a dominant footprint for themselves. While Sprint owns 51 percent of Clearwire, it would be difficult to see what will transpire between all the talks. Deutsche Telekom has already committed to taking on LTE for its 4G network – while T-Mobile USA is still in limbo about a decision to where they should move.
via
mocoNews