Surface tablets can be reserved in official Microsoft stores
7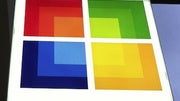 Waiting for the Windows RT powered
Microsoft Surface
to be released? Well, it might be a bit late to pre-order one online and expect it to arrive on time as
the basic $499 model now ships in 3 weeks
. However, it might be possible to get a unit on launch day – October 26, as long as you have a Microsoft pop-up store available nearby.
At least one future Microsoft Surface owner has managed to pre-order one at the Microsoft pop-up Store located in Washington Square in Beaverton, Oregon. He was given a "Surface reservation pass" (pictured below) that he must present before noon on October 26, in order to make the purchase. Which Microsoft Surface variant he chose to get remains unclear, although the pass may be good for whatever variants the outlet has in stock. Furthermore, the tipster says that the sales representative had a pretty thick stack of passes like this one, presumably about 150 or 200 of them.
Although we cannot confirm whether these reservation passes are available in all Microsoft stores throughout the country, it won't hurt calling your local outlet and asking whether they have them, in case you desperately want a Surface ASAP. And in case you managed to get one like this tipster did, feel free to let us know down in the comments!
source:
WPCentral