$499 Microsoft Surface tablet already in short supply
13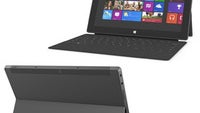 The Windows RT model of the
Microsoft Surface
tablet was put up for pre-order yesterday, with a retail price of $499 for the base model. And by "base model" we mean a Surface slate by itself with 32GB of storage. For an extra $100 one may have the Touch Cover, which is an accessory that protects the tablet's screen while doubling as a touch-sensitive keyboard, and the $64GB model is priced at $699.
Now, some might consider the price of the Surface tablet quite steep, especially when one may get a third-gen
iPad
for the same amount of cash, along with that pristine Retina display it sports. However, Microsoft's tablet appears to be selling well – a lot better than you might expect, for that matter, as the base $499 model is now in short supply at the Microsoft Store.
The 32GB Microsoft Surface tablet will ship in three weeks
, as it is stated on the web page. Those who want one will either have to wait or settle with the more expensive options that are available.
Has Microsoft underestimated the demand for its slate? Perhaps, although the company might be also trying to build up hype around the device by limiting the supply. Either way, the Microsoft Surface tablet is coming in just a few days, and we are already eager to check it out first hand. Are you?
source:
Microsoft Store
via
BGR