Strategy Analytics: Tablet market to be a $49 billion business by 2015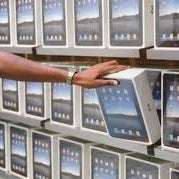 A survey conducted by Strategy Analytics claims that the tablet market is to turn into a $49 billion industry by 2015, which is to say only the TV and the PC markets will be bigger than it in the consumer electronics sector.
According to Strategy Analytics, this translates into 149 million tabs sold in 2015, which, although an impressive figure, still falls short of the
growth projected by Gartner
- the latter research firm estimates that 294 million tablets will be shipped to the end consumer in 2015.
Both firms predict that the iPad will be the dominant force in the tab business during the next four years, while Samsung is touted to be a distant second in the same period. Neil Mawston, Director of Wireless Device Strategies, says on the future of the tablets:
"Tablets are a high-value casual-computing segment that is creating huge growth opportunities for major brands, such as Apple and Samsung."
Everyone seems to nod in agreement that the tablet market is bound to get bigger, and we don't need to look any further than the
impressive sales figures
of the
iPad 2
to acknowledge that the tab industry is experiencing exploding growth.
via:
Reuters