Strange Bluetooth hands-free devices

In the last few days out attention was caught by two rather strange hands-free devices for phones, using the Bluetooth wireless technology. These are examples of how much the technology changes and that we should expect extravagant and irrational devices in the near future.
The perCushion
is a hi-tech pillow with integrated Bluetooth receiver and all the technology you need for conducting a call: buttons, LEDs, microphone and speakerphone. The perCushion is designed for talking while relaxing, as most of you know how uncomfortable is to use phone or even headset while in the bed.via
Gizmodo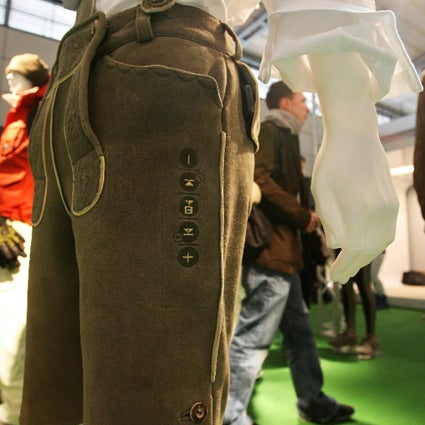 "Lederhosen"
The other crazy device is the
leather
phone-
trousers
"preferred by thigh-slapping Bavarian dancers", called Lederhosen in original (German). We are not sure if this one has GSM module or just Bluetooth hands-free but guess it is the second. The keys on the side of the leg and the microphone in the suspender straps allow you to talk, while doing your job, like drinking beer for example.
source:
Textually
via
Gizmodo