Stereophonics: Xperia Z2 S-Force Front Surround speakers vs HTC One BoomSound
54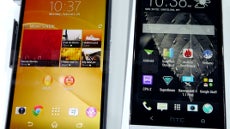 We already saw an
impromtu comparison of the stereo speakers on the HTC One and Xperia Z2
, but it was accompanied with quite a lot of noise from the show floor at the MWC expo. Now the same comparison has been done, but in a much quieter atmosphere, albeit with similar conclusions.
The testers put HTC One's
BoomSound stereo speakers
against the S-Force Front Surround Sound set in the upcoming Xperia Z2. Just like with the previous comparison video, here the audible conclusion is that the speakers of the Z2 are stronger than the BoomSound couple on the One, but HTC's output is cleaner. The Z2, however, is found to be softer overall, with a more pronounced bass. Hear the comparison below, and tell us if you agree.