In stereo: Xperia Z2 S-Force Front Surround speakers vs HTC One BoomSound
58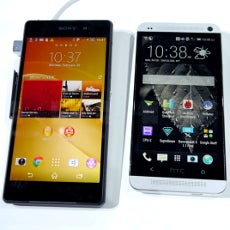 Sony announced the
Xperia Z2
with very welcome special audio features, such as stereo speakers, and a built-in digital noise cancellation. The cancellation solution does the digital signal processing in the phone or tablet, instead of the headphones themselves, while the stereo speakers provide a more social audio experience, if needed.
HTC was the first one to provide frontal stereo speakers with the
One
, dubbed
BoomSound
, and it listed the exact might of its loudspeakers to be 93dB. Sony calls its audio solution S-Force Front Surround Sound, but doesn't give any specifics on the decibels it is capable of pumping out. That's why an audio competition has been staged at the MWC expo, between an Xperia Z2, and an HTC One phone.
The same tune was loaded on both, and the sound played through the stereo speakers at maximum volume. Granted, the show floor there is quite noisy, but a difference in strength and quality is still audible, so check out the video below, to learn which handset excelled.