Sprint and Sanyo to launch new clamshell phone with Bluetooth support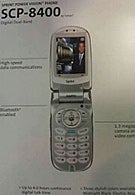 The new SCP-8400 is a mid-level CDMA phone, a successor of the MM-9000. The clamshell device will be quite similar to its predecessor but smaller-sized and cleaner design-wise. It's known that a microSD slot for memory expansion will be featured and it's certain that unlike the SCP-9000, the handset will have Bluetooth support – something unusual for Sanyo phones, and definitely a big plus. However, no other official specs and features have been revealed.
The SCP-8400 is expected to be launched by Sprint in late August.
On a side note, there is a rumor that the 6700, the new Katana, is expected to be launched sometime early in 2007.
Source:
SprintUsers
via
EngadgetMobile
Update (Sep 13, 2006):
The SCP-8400 by Sanyo is actually the successor ot the
MM-8300
.