Sprint-HTC event (EVO ONE announcement): Liveblog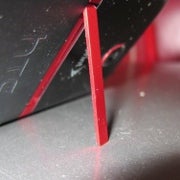 Today is the big day for all Sprint and HTC lovers, as the companies have organized a get-together, where they'll be announcing their latest collaboration. Now, it doesn't take a genius to tell that these guys will probably introduce us to Sprint's version of the HTC One X - a device that some believe to be called EVO ONE. According to the available unofficial information, the phone will remain true to the One X in terms of specs, being equipped with a 4.7" HD screen and 8MP camera. What would be interesting to see, though, is whether the EVO ONE will have LTE and a dual-core processor, or a Tegra 3 SoC and no LTE. Our guess is it will have LTE and Snapdragon S4, similarly to AT&T's version, but we hope we'll know for sure soon enough.

Stay tuned, guys and gals, as the event is going to begin at: 5:30PM Eastern, 4:30PM Central and 2:30PM Pacific Time!
Live event tracker
| | |
| --- | --- |
| 16:59 | Make sure to check back here for our hands on. This is John V, thanks for participating! Peace! |
| 16:58 | That's all folks. It's done. We'll be checking it out. |
| 16:58 | We're just waiting for pricing. It's the true successor to the original. Available in 2nd quarter. may 7 preorder. $200 on contract |
| 16:58 | |
| 16:57 | You heard that right. 2,000 mAh battery |
| 16:57 | 2,000 mAh battery only on the handset |
| 16:57 | "hearing is believing" |
| 16:57 | |
| 16:57 | Of course, HD Voice sounds richer and more robust. |
| 16:56 | We're getting a demo of HD Voice, first recording sounds muffled & lots of background voice. |
| 16:55 | Dual-mics, encoders, decoders, and technology in the network provide HD VOICE. |
| 16:55 | |
| 16:54 | Now it's time for HD VOICE |
| 16:54 | Media link lets you share multimedia wirelessly, which we've seen already. |
| 16:54 | |
| 16:53 | Next up is the focus on SOUND. Authentic sound on the EVO with Beats audio |
| 16:53 | And the video is over |
| 16:53 | |
| 16:52 | "wait, there's a REAL camera inside of here." |
| 16:52 | |
| 16:52 | Wow, seems like this photographer is willing to trade his camera for the EVO |
| 16:50 | (null) twitpic.com/95n2sq |
| 16:50 | (null) twitpic.com/95n2jx |
| 16:50 | Quick video about the handsets camera |
| 16:48 | Super fast startup and auto focus |
| 16:48 | He's talking about the handsets 8 megapixel camera. |
| 16:47 | Sprint's fared adib is now on stage |
| 16:46 | "we brought back the kickstand" |
| 16:46 | Wow. He's definitely getting to every nook and cranny about the design |
| 16:45 | And it has a physical camera button |
| 16:45 | "impossible to mistake this phone as anything but an EVO" |
| 16:44 | Red accents give it a distinctive look to the EVO |
| 16:44 | And the video is over. |
| 16:43 | This video is pretty in depth regarding the design process of the handset. Really comprehensive. Goes to show its beauty |
| 16:43 | "it has to be sexier than any EVO before it" |
| 16:42 | And yes, it has a kickstand |
| 16:42 | Seems like HTC really put a lot of love and emphasis into the design of the EVO4G LTE |
| 16:41 | Lots of passion put into the design of the EVO. Video is now playing |
| 16:41 | Crafted from an aluminum space frame. It's anodized to a black finish. |
| 16:40 | Jonah Becker, lead in HTC design, is now on stage |
| 16:39 | "tremendous collaboration between HTC and Sprint" |
| 16:39 | HTC Sense 4.0 is obviously on board with the handset. |
| 16:39 | Lots of photo ops as Dan and Jason are showing off the phone |
| 16:37 | It's showing off the new HTC EVO 4G LTE. |
| 16:37 | Another video is playing. |
| 16:36 | Again, talking about the HTV EVO 4G accolades. |
| 16:35 | HTC President Jason Mackenzie is now on stage |
| 16:35 | "so crystal clear, you can hear a pin drop." |
| 16:34 | This new EVO will be the first to offer HD calling quality. Eliminating background noise so it's clear. |
| 16:34 | This new EVO shows off Sprint's network vision for better 3G speeds and LTE networks |