HTC EVO One for Sprint captured on camera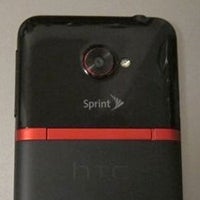 What we have posing for the camera today, folks, is said to be the HTC EVO One. Bound for Sprint, the smartphone has yet to be unveiled officially, yet rumor has it that it is basically a redesigned version of the
HTC One X
. What is so different about it, you ask? For starters, the device in the photos obviously sports a kickstand. Also, we heard rumors last week claiming that the HTC EVO One will come with a beefier, 2,650mAh battery. If that happens to be true, we would expect the smartphone to be slightly thicker than the One X, but it is really hard to tell whether it is or not just by looking at the photos below.
The bloke who got to check the HTC EVO One out says that it comes with a 720p 4.7-inch display, 8-megapixel main camera,
1.3
-megapixel front-facing shooter, and Beats Audio technology, which is exactly what we have on the HTC One X. It is also claimed that photos taken with the device were outstanding, which is quite interesting to hear considering that we weren't really blown away by the images that we took for our
HTC One X review
. Sadly, we have no word as to what processor makes the device run and whether it has an LTE radio inside it. However, our guess is that we have a Snapdragon S4 processor paired with an LTE radio under its hood, much like what the hardware specs are on the AT&T HTC One X model.
If
rumors are on the right track
, the HTC EVO One for Sprint may be officially announced today, so we will definitely be watching out for that. Nevertheless, chances are that it will be at least a couple of months before we see the device hit the market.