Spotlight: App Eater lets you uninstall apps through a convenient home screen widget
1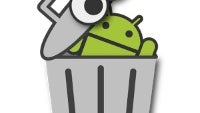 Need a functional app uninstaller app for Android? Try App Eater, for it will devour any apps and widgets you no longer need right off your homescreen. Ad-free and completely functional (even without in-app purchases), the application offers batch uninstall, uninstall history, system app removal for rooted devices, clear app data and cache, lock apps against removal, app sorting (name, date, size, update date, etc), and a whole bunch of extra functionality that you'll discover on your own.
Most notable is the widget functionality, which lets you uninstall the last installed, last updated, or the most recently used app right there from the home screen, without reaching for the convoluted Settings menu or the standalone App Eater application. This is a first for uninstaller apps in the Play Store.
Coupled with the simple design and timely support, in addition to all the other functionality, the availability of widgets makes App Eater a truly special one. If you feel like giving the app a try, follow the download link below.