Spotify could launch a new in-car speaker on April 24
4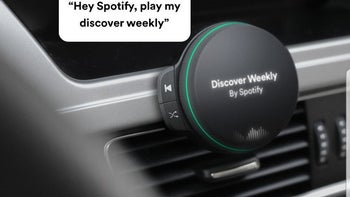 Spotify's first hardware product could be just around the corner. It has been rumored for some time now that the music streaming company has been working on its
own smart speaker
. Thanks to a new ad spotted within the
Spotify app
, though, it now appears the company's next product could be slightly more unique.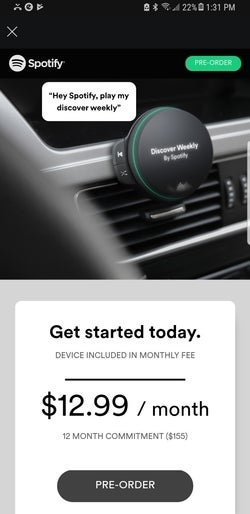 A new in-app pop-up seen by multiple users shows off what appears to be a new in-car entertainment product, which sports a disc-shaped design that is highlighted by a green, LED hue around the
edge
. Furthermore, a digital display covers the front portion of the device, while physical shuffle and pause/play buttons are also featured. The device should also easily click on to the car's dashboard. Now, it's worth pointing out that the ad itself fails to mention any specifics regarding what the device entails, although from what can be seen, it appears to be a small, compact wireless speaker that should allow users to directly connect to their Spotify accounts. Furthermore, a number of voice commands are set to be supported, but it'll remain to be seen if the company will also be incorporating its own smart assistant into the product.
Regarding the pricing of the accessory, the ad interestingly suggests that Spotify has no plans to directly sell the device to its customers. Instead, it appears the company will require Spotify users to sign up to a $12.99/month subscription plan which will include the new in-car product and a premium Spotify account. However, one user did claim that he was shown a price of $14.99 per month, suggesting the company has not yet finalized pricing. Nevertheless, a 12-month commitment will be required.

Spotify is yet to confirm any details surrounding the device, but it did recently announce that it would be holding a press conference in New York on April 24, suggesting that its first hardware product could be revealed within a matter of weeks.