Spotify for Apple Watch may be introduced in June at WWDC 2018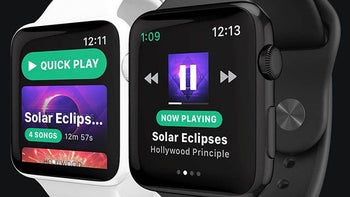 Spotify, the popular music streaming service is likely to make its debut on the
Apple Watch
in early summer, a new report suggests. Apparently, a Spotify application aimed at smaller screens will be made available to iOS users in the coming months.
The said app will be officially unveiled in June at WWDC (World Wide Developers Conference) 2018. The information comes via "an anonymous and unverified tipster" who was personally involved in the development of the
Spotify application
for
Apple Watch
.
According to the source, Spotify's app will be among the examples Apple will use at the conference to demo the so-called StreamKit framework, which allows
Apple Watch models
with cellular connectivity to receive push notifications from third-party apps without having to be paired with an iPhone.
The new feature is likely to be introduced with the watchOS 5 that's probably going to be unveiled later on. Apple's WWDC 2018 is set to debut on June 4 and should end on four days later.