Spigen Samsung Galaxy Note II Cases hands-on
4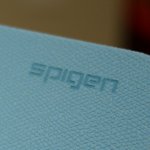 When we were first introduced to
Spigen
, the accessory maker, it was way back earlier in the year when we were scoping out some of the
stuff for the original phablet
– the Samsung Galaxy Note. Since then, they've put out some very cool gear for all of today's modern devices, ranging from
stylish cases
sturdy tempered glass screen protectors
to . Well, if you happen to own the latest tabphone/phablet on the scene, the magnificent
Samsung Galaxy Note II
, you're in luck because we're getting our hands on some cool cases for it.
Now some of you might find Spigen's prices for its cases to be on the expensive side of things, but they're known to produce some premium stuff that's better quality. And simply folks, that's what we see here with these four exact accessories for the Samsung Galaxy S III. So let's go down the list and tell you about them.
Spigen Ultra Thin Air Case:

Cheapest of the bunch at

$19.99

, the Ultra Thin Air Case is nothing more than a slim and lightweight polycarbonate shell that wraps around the back side of the handset. Indeed, there are cutouts throughout it that provide us access to its buttons and ports. All in all, it's pretty much a generic thing.



Spigen Hardbook Case:

Adding a little more sophistication, the Hardbook Case is comprised out of an Ultra Thin Air Case that is attached to the synthetic leather body. With its folded design, the case actually

turns into a useful stand

that makes it great for watching videos in landscape. Moreover, this

$36.99

case has a slot that can be used to store IDs, credit cards, and even cash – though, it's a single slit.



Spigen Illuzion Leather Wallet Case:

Looking to replace your wallet? Well, you're in luck because the Illuzion Leather Wallet Case is the perfect solution, as it also manages to keep your wallet contents and Note II together. Using the same synthetic leather material, with another Ultra Thin Air Case to hold the handset in place, there are more slits on the left portion of the case to accommodate a bunch of stuff. At

$34.99

, some will appreciate the added slots and clasp.



Spigen Folio Leather Case:

For the professionals out there, the Folio Leather Case is the perfect thing for your Note II. Unlike the other two wallet-like cases, the Folio (

$44.99

) doesn't rely on an Ultra Thin Air Case to keep the handset in position inside of it. Rather, the handset slips into the casing from the top side, where it's held in place by the sturdier synthetic leather frame. And of course, there's a single slit on the left side ready to accept something.


Spigen Accessories hands-on