Sony Mobile shuts down 'my Xperia' remote tracking service
12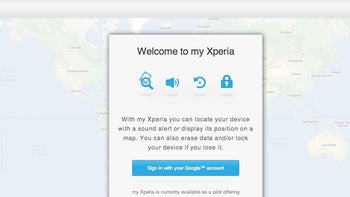 Sony Mobile, one of the world's major smartphone makers, confirmed recently it has discontinued the 'my Xperia' remote tracking service. Although the company didn't make any announcements previous to the shutdown, Xperia smartphone users who wanted to access the service earlier this week were redirected to Google's Find My Device site.
my Xperia tracking service
worked similarly to Google's Find My Device, which is probably one of the reasons Sony Mobile has decided to pull the plug on its own service. Since many Xperia users wondered what happened with my Xperia and why isn't working, a Sony Mobile rep confirmed the service was discontinued.
As of January 17, 2018, the my Xperia web service has also been discontinued and you will now be redirected to the Find My Device web service instead.
So, if you're running an Xperia smartphone as your daily driver, you will now be redirected to Google's Find My Device service instead of my Xperia. Overall, this is probably a good decision since the Japanese company can redirect some of the resources to other projects more useful to customers.