Sony Ericsson Xperia PLAY nabs an exclusive on Lara Croft and the Guardian of Light
4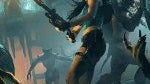 Being one of the biggest video game action stars during the 90s, Tomb Raider's very own Lara Croft has been eerily silent of late, but now that she's coming back to the consoled scene early next year, it's fitting that she'll be making her presence in the mobile world in the meantime.
Yet another big win for
Sony Ericsson Xperia PLAY
owners, the handset just recently nabbed another
exclusive
title in Square Enix's
Lara Croft and the Guardian of Light
.
Based on the popular Tomb Raider games of yesterday, this one isn't your typical run and gun third person title, but rather, it's simply going to be an isometric adventure and puzzle game. Actually, Guardian of Light appeared first on consoles and the PC back in August , but now it's coming to the Xperia PLAY this
November
.
As of right now, there's no word in terms of an actual release date or pricing – though, we'd suspect to see this one come in under the $10 mark like most of the other mobile games out there. Therefore, if you have an itch to see the lovely Lara Croft once again, then you might want to keep an eye out for this title.
via
Android Central