Some Galaxy S6 units have a LED flash that refuses to stop working, Samsung promises a fix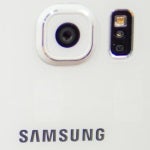 The Samsung Galaxy S6 got this close to being perfect, but shipping the flagship and its edgy compatriot to the cheering masses has been anything but free of problems. Following those early T-Mobile units that came to customers scratched all over, another issue began rearing its head, and this time, it seems to occur on Galaxy S6 units globally.
What's the fuss about this time? Apparently, the LED flash on the GS6 seems to be confusing itself for
the Eternal Flame
, and it stays on constantly, even when it's not supposed to be in use! Although it's not engaged in maximum brightness mode, the LED is nevertheless active, and its light is noticeable in dim conditions. Users at XDA Developers theorize that a small amount of current is leaking to the LED light, because the problem manifests itself even when the smartphone is powered off.
The good news here is that Samsung has been made aware of the issue and claims it will solve it in a future software update, which means the flaw isn't buried in the hardware and you shouldn't hurry to return your new GS6 just yet. And to end this piece with a mammoth punchline, here's what a cunning XDA user had to say on the matter:
"Samsung weren't joking when they said the Galaxy S6 would be the flashiest of the series."
Samsung Galaxy S6
source:
XDA Developers