Snapchat shutting down its original content channel
4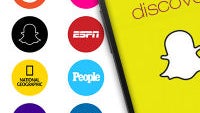 Snapchat Stories have been a solid addition to the app and the Discovery content partner stable has been growing with interesting content from sources like ESPN, Mashable, Vice and others. But, that content lineup is losing the original content channel from Snapchat itself, according to a new report.
Snapchat had thrown serious resources behind its 'Snap Channel' with a team of 15 people, headed by Marcus Wiley as the head of program planning and development. Wiley had an impressive resume before being hired by Snapchat. He was the senior VP of comedy at Fox, and was credited with helping to launch popular shows like "The Mindy Project", "Brooklyn Nine-Nine", and "Bob's Burgers".
According to a report by
Deadline
, Wiley will be moving on, and Snapchat is planning to fire many of the other 15 members of the Snap Channel team. Snapchat has apparently not totally given up on the idea of original content down the road, but for the foreseeable future content creation in the app will be left to the 15 channel partners. And, if Snapchat does get back into the content game, it probably won't be with Snap Channel.