'Smoked by Windows Phone' challenge to transition into an ad campaign
34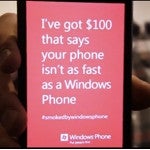 This certainly shouldn't be a surprise to anyone who saw the news about the challenge before, but it is looking like the
$100 challenge
that we've seen at CES to beat Windows Phone on speed will likely become an advertising campaign for Microsoft.
The challenge itself has reportedly been going quite well for Windows Phone, at last check it had 21 wins and only one loss and one tie, but of course the challenge wasn't exactly a fair fight. It's not that the challenge was rigged exactly, but it was certainly designed so Windows Phone would win, much like any HTML5 "test" that you'll find on Microsoft's IE sites, or a Pepsi challenge (of course Pepsi tastes better than Coke on one sip, but after a whole glass, very few people would choose Pepsi.) The paramaters of the challenge haven't been detailed, but it is limited to only 10 tasks and of course is only based on speed, and doesn't take into account the other advantages other devices have on many Windows Phones like better displays, higher quality games, etc.
Regardless, it's looking like this is all a setup by Microsoft for an ad campaign, because not only are contestants being outed on Twitter, but they are being filmed by multiple cameras and made to sign standard TV release forms.
We know there is a lot of snark in this article, but don't get us wrong. It's not that we don't like Windows Phone, it's a very nice OS, and we have said many times that we expect it to make a jump in popularity this year. We just don't like blatantly manipulative marketing.
*Update*: This video doesn't really give the whole picture, but the story as reported is that the Windows Phone was called the winner of this challenge although neither phone actually completed the task. Supposedly, the task was to take a picture and upload it to Facebook, but the WiFi wasn't working properly. So, the Samsung Galaxy S II gave the error that the photo wasn't uploaded, but the Windows Phone didn't give any indication whether or not the photo was uploaded, but the WP was still declared the winner.
Not full proof, but it certainly smells fishy.