Shin: Samsung on the cusp of announcing the acquisition of a mobile-related tech firm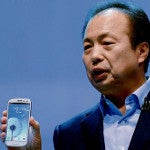 Samsung is about to announce the acquisition of a mobile-related tech firm
. That comes directly from Samsung Mobile president J.K. Shin who opened up to the Wall Street Journal. While Shin confessed that an acquisition is in the works, he also said that Samsung had no plans to buy ailing handset manufacturer RIM.
Rumors of such a deal
had been making the rounds. Shin did say that the company is looking at several software firms.
While Shin would not name the target company that Samsung is close to purchasing, he made a point of discussing
the new Smart Stay function on the just unwrapped Samsung Galaxy S III
as an example of what these acquisitions can lead to. The Smart Stay function uses the front-facing camera on the Samsung Galaxy S III to
see if you are looking at the screen so that the display won't time out
.
Shin didn't give any precise date when the deal would be announced although it is believed to be imminent. Samsung is
now the world's leading smartphone manufacturer
and Shin's mobile division accounted for
75% of the Korean company's $4.5 billion profit in the first quarter
.
"The

technology

industry is growing very quickly and it is too much of a burden to try to do everything in-house. There are many qualified workers from India that are very skilled in software. And there are small companies that we can acquire that have good research and development capabilities … If the opportunity allows, we will do [mergers & acquisitions].-Samsung Mobile president J.K. Shin
source:
WSJ
via
SlashGear