RIM shares soar nearly 7% on rumors of Samsung investment and phone
23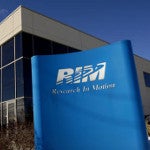 Shares of BlackBerry manufacturer RIM
soared nearly 7% on Friday
to close at $14.38 a share. The stock popped on rumors that Korean manufacturer Samsung is planning on making a minority investment in the troubled company. According to the rumors, Samsung will also develop smartphones using RIM's new BlackBerry 10 OS
which is expected to launch sometime this year
.
Collin Gillis, an analyst with BGC Partners who has a "sell" signal on RIM, says that Samsung along with other Android manufacturers, is concerned about what Google has in mind
after its purchase of Motorola Mobility
is completed. Gillis says that both Samsung's home grown OS bada and Microsoft's Windows 8 could give Samsung some answers if Google changes its licensing strategy for Android. The analyst, who believes that this will be the year that Windows Phone hits the big time, says that talks between Samsung and RIM for the use of BlackBerry 10 OS are likely to have occurred and the speculation is that Samsung will throw $1.5 billion into the shrinking RIM vault.
do not want a foreign company to buy out RIM
. That leaves the new BlackBerry 10 OS as the reason for Samsung's investment in RIM. Gillis said that he doesn't have a clear time frame as to when we might see Samsung branded BB 10 powered models, but he is not optimistic about BlackBerry making up ground on the competition with the new software. "
I could give you a better answer in the fall
," says the analyst, "
When we see how much the platform has deteriorated."
Gillis adds that having Samsung produce smartphones powered by BlackBerry 10 OS could be a negative for RIM because the Korean firm
makes better phones than RIM
. Back in January, word leaked that RIM was
only building one new smartphone powered by the new OS
. If that proves true, it will leave plenty of room for other manufacturers to produce BlackBerry 10 OS flavored phones.
Even with today's rise, RIM's stock is well off the 52 week high of $64.63.
source:
DowJones