Samsung records record profit for latest quarter, becomes world's top smartphone manufacturer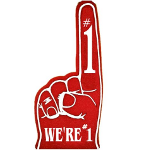 Thanks to some hefty profits in the division that makes smartphones,
Samsung hopped above Apple to become the global leader in smartphone production
in the first quarter of 2012. The Korean based manufacturer had profits of $5.2 billion for the three month period. According to
Strategy Analytics
, for the first quarter of this year Samsung shipped 44.5 million smartphones.
That topped the 35.1 million Apple iPhone units that the Cupertino based firm reported it sold
during its fiscal second quarter. During the first quarter last year, it was Nokia that led all smartphone manufacturers with 24.2 million phones shipped. Apple was second with 18.6 million followed by the 12.6 million shipped by Samsung. Nokia's smartphone shipments dropped by more than half in the first quarter of 2012 to 11.8 million.
Samsung owned the largest marketshare of smartphone producers in the first quarter with a 30.6% slice of the pie. Combined with Apple's 24.1% share,
the two rivals control more than half of the world-wide smartphone market
. Lee Sei-Cheol of Meritz Securities says, "
The smartphone market has almost only two players,
Samsung
and Apple
." Nokia, which had the largest marketshare in the 2011 first quarter, saw it's ownership of the global smartphone market drop from 23.5% to 8.2%.
allowed Samsung to take the top spot for the first time ever
. Alex Spektor, associate director at Strategy Analytics said, "
Five years after it captured the number-two spot from
Motorola
,
Samsung
has finally become the world's largest handset vendor in volume terms
."Apple, with its lack of featurephones, finished third in total handset marketshare with a 9.5% reading.
According to
Strategy Analytics
, year over year growth in smartphone shipments dropped from 86% in the first quarter of 2011 to the 41.1% growth recorded in the opening quarter of 2012. Looking at the raw numbers, 145.3 million smartphones were shipped in the first three months of 2012 compared to the prior year's 103 million. Total handset shipments globally were 368 million, ahead of the 356.4 million handsets sold in Q1 of 2011. Growth in handset sales slumped to 3.3% during this year's opening quarter from 19.4% growth last year.
source:
AppleInsider