Screen shots of Samsung Galaxy Altius smartwatch leak
12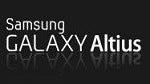 These screen shots actually create a few more questions than they answer. When it comes to this watch that Samsung is working on, all we know so far is based on what was leaked today.
Samsung has not acknowledged that it is working on such a project for starters. On top of that, it looks like it is running its own operating system call AltiusOS. From the looks of things, the watch will have its own cellular connectivity based on the upper left indicator showing the mobile network of South Korean carrier SKT. The device will also be able to play music and at the very least, display emails and messages. The form factor clearly takes a queue from the Live Tiles seen in Windows Phone.
Even more confusing is that Altius is also thought to be the
project name for the Samsung Galaxy S IV
so we will just have to see what else emerges from the ether on this tidbit. However, based on what we see here, the Samsung Galaxy Altius will handle media, email and messaging as well as tell the time.
sources:
Ruliweb
and
Techkiddy
via
Android Authority