Scosche MotorMouth II auxiliary Bluetooth adapter offers a reliable wireless connection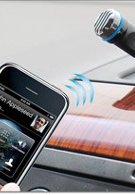 Remember the good oldies when FM transmitter adapters were all the rage in enabling you to listen to music stored on either your MP3 player or handset in the fine comforts of your ride? Well, we all probably know at how pesky it can be at times in obtaining a static free experience since there are other drivers drowning themselves with FM radio, but at the same time, tunes being transmitted by them can accidentally be picked up by a nearby motorist.
That's where Scosche's MotorMouth II comes into mind since it'll safely keep all of your inner most love of music and phone conversations confidential from prying ears since this adapter connects via Bluetooth. Now this will only be useful to people who have an auxiliary input connection with their car stereo, but of course, the beauty of it all is the fact that you'll have an uninterrupted experience in listening to your music library without having to fight for a solid connection.
But if a phone call happens to come in, you'll still be able to hear your caller since it'll be resonating from the speakers in your car. Thankfully, this can prove to be an attractive solution that can be used outside of the car setting – and even more when it's priced at $79.99.
via
Engadget