Amazon's great deal on a Fire HD 8 bundle includes accessory that makes it a smart display
2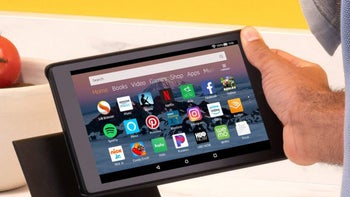 Guess who has a deal on an
Amazon Fire HD 8
bundle. If you guessed Amazon (via Android Police), you were right. The etailer's own 8-inch tablet is on sale for $79.98 in a bundle that includes a Show Mode, Charging Dock. This is an accessory that essentially turns the tablet into a smart display by including visual support for Alexa results. The bundle is normally priced at $119.98, so you are saving $40 or 33%. And if you Apply for an Amazon Rewards Visa Card and are approved, you can take another $50 off. That takes the price down to $29.98.
The Fire HD 8 runs on a forked version of Android. This means that it doesn't support Google's apps and features the Amazon Appstore instead of the Google Play Store. The 8-inch LCD screen carries an 800 x 1280 resolution and is powered by a quad-core MediaTek chipset. It comes with 1.5GB of memory and 16GB of storage. The tablet has 2MP cameras in back and front and connects to the internet through Wi-Fi.
When the tablet is docked, it automatically goes into Show Mode. This allows Alexa to show you recipes, news, timers, calendars, the local weather, live camera feeds and more. It tilts to the angle that allows you to view the screen best, and will also charge the tablet.

The bundle allows you to turn your tablet into a smart display
With Father's Day this Sunday, this bundle might make a great gift. The tablet is available in Canary Yellow, Marine Blue, Punch Red and Black.