Satarii Star dock follows your movements with the iPhone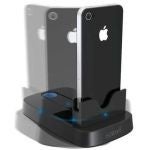 The new Satarri Star is an oddly wonderful accessory. If you use
FaceTime
or any other video chat program, you've probably realized that you're tied to the device while recording. The Satarii Star allows you to move around the room freely, while the rotating dock follows your movements.
It's function is simple enough. The user attaches a clippable module to their clothing, and places their iPhone in the dock (portrait or landscape mode). The Satarii Star will then rotate to keep the subject within the frame. The Satarii Star doesn't tilt automatically, but it can be manually adjusted to the appropriate angle.
The bad news is that the Satarii won't be available for purchase for another 6 months, at least. It is a crowd-funded venture, meaning that interested parties can donate to its development, and be one of the first to receive a finished Satarii Star unit. At the higher levels of investment, you can even get prototype units before the polished units are produced. Follow the link below to donate and learn more.
source:
Satarii Star
via
IntoMobile
Satarii IndieGoGo Campaign from Satarii on Vimeo.