Samsung used the Galaxy A5 and A3 to set the world record for the most selfies taken in 24 hours
36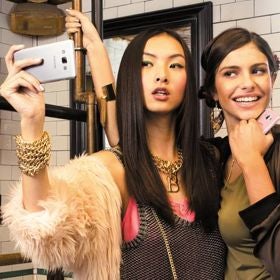 Samsung recently tried to break the Guinness World Record for the most selfies taken in one day (24 hours), and, with the help of its
Galaxy A5
and
A3
, it succeeded. The attempt took place in South Africa (Johannesburg and Cape Town), following the launch of the two Galaxy A series smartphones there.
Obviously, Samsung invited regular people to join the selfie madness and help it break the record. In the end, 12,803 selfies were snapped with Samsung's Galaxy A handsets - almost 3,000 more over the previous record. During the attempt, Samsung gave away 100 Galaxy A handsets and lots of selfie sticks to encourage people to participate.
As of December, both the
Galaxy A5
and Galaxy A3 are available to buy in select markets, being two of Samsung's thinnest smartphones ever (6.7 mm and 6.9 mm, respectively). The handsets have 5 MP front-facing cameras, which is obviously one of the reasons why Samsung used them to break the Guinness World Record for the most selfies taken in 24 hours. Both the Galaxy A3 and A5 are powered by quad-core Snapdragon 410 processors, but the A5 offers more advanced features, including a 5-inch 720p display, and 2 GB of RAM.
sources:
Samsung
(Twitter),
Samsung's online selfie album