Samsung survey finds that 30% of UK fans plan to watch the World Cup on a smartphone or tablet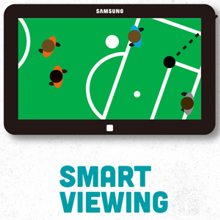 Samsung recently carried out a survey in order to find out how people in the UK were planning to watch football (or soccer, as it's known in the US) "this summer" - thus during the
2014 FIFA World Cup
, which is in full swing now, and will conclude on July 13.
Samsung says that 2,000 people participated to the survey. 30% of them were planning to watch games on their smartphone or tablet, while other 30% said that they'd rather rely on a smart TV to enjoy the action. Almost half of respondents (44%) indicated that they'd record games to watch them later.
"It's clear that technology is set to play a large part in the viewing experience of football fans this summer with tablets, smartphones and smart TV's all featuring heavily on how we plan to watch the football and technologies such as 'live pause' and recording being a key part of how we view each match. As the Official Consumer Electronics & Smartphone Supplier to the England Team, Samsung's technology will be enhancing the experience of the England squad out in Brazil, all squad members will be equipped with the Samsung Galaxy S5 which comes preloaded with state-of the-art health features, including a heart rate monitor. We wish the team the best of luck and also hope that all football fans back home enjoy every moment of the tournament," said a Samsung spokesman.
The funny (or sad) thing about this quote is that it comes now, when England lost (1 - 2) to Uruguay, almost completely ruining its chances of qualifying in the second round of the World Cup.
source:
Samsung Tomorrow