Samsung showcases compatibility of the Gear 360 with third-party accessories
4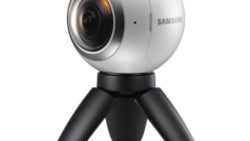 Ever bored your friends with an endless slideshow of unprofessional photos from your latest vacation? Or, maybe you've been on the receiving end of this torturous practice? Whatever the answer, you might want to check these two new videos by Samsung, showcasing the Gear 360's compatibility with third-party accessories, to get a better idea of how people will be documenting their holiday experiences in the near future. We're hoping it will be for the better.
The first clip is a boring ol' uninteractive video, showing just how much fun a couple is having taking the Gear 360 for a spin on their holiday. The second one is the final product – a 360-degree short that e allows you to look around.
Either way, Samsung wants you to know that you can use the Gear 360 with a wide variety of accessories, ranging from selfie sticks and drones to camera docks and helmet mounts. Samsung says you can even use a clamp to attach the camera to your guitar for a wild 360-degree face-melting solo. That way, other people will be able to look around to their hearts' content and totally miss your flailing around with the guitar.