Samsung racing with TSMC to get 10nm chips out first, 40% less power draw promised
27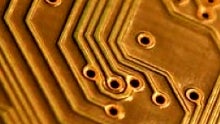 Samsung might be currently holding all the cards in mobile processing with its 14nm FinFET production method that outed the scorching fast
Exynos 7420 in the S6
, but TSMC is not resting on its laurels, it seems. It will apparently race past 14nm, and go straight to the 10nm process, just like Samsung did when it skipped the 20nm FinFET mark, and went directly to 14nm for the trendy stacked method.
In fact, the TSMC risk trial productions of 10nm chips will start as soon as this year, and the foundry will be able to accept orders from big customers like Apple or Qualcomm as soon as next year, if all goes well. This apparently doesn't sit well with Samsung, as it managed to steal those two important customers from TSMC with its 14nm process already. Qualcomm has tasked Samsung with
the production of its upcoming Snapdragon 820 chipset
, after the TSMC fiasco with 810, while Apple has given the A9 production to the
Samsung fab in Austin
.
For now, Samsung plans on expanding its 14nm capacity, and hasn't announced any change of schedule for the start of its own 10nm lines, which was
originally set for the end of next year
. Back in May, however, the System LSI division showcased the first 10nm wafers in a highly unusual move, likely aimed at giving a pause to big customers like Apple, before they
commit to TSMC for the development of their next-gen chipsets
. The 10nm process, as with every die shrink of this magnitude, will introduce a 20% increase in peak clock rates, and a whopping 40% decrease in power consumption, all in the same footprint, and that's what the race is all about.