Samsung to start 10nm chip production in late 2016
20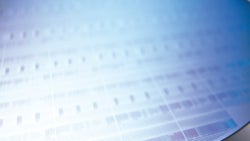 Samsung recently announced that it will start mass producing chips using the 10nm node manufacturing process by the end of 2016. The new technology is thought to provide significant advantages in terms of processing power, chip size, and power consumption.
The new 10nm chips will continue to use Samsung's fin-shaped field-effect transistors (FinFET) technology, just like the Samsung Exynos 7420, the first mobile chip in the world manufactured using the 14nm process. The Exynos 7420 is the chip that powers the
Samsung Galaxy S6
and the
S6 edge
, and benchmarks show that it's the fastest mobile chip currently available on any Android smartphone.

At a special event earlier this week at the 2015 International Solid-State Circuits Conference (ISSCC) in San Francisco, Samsung unveiled a 300mm wafer manufactured using the new technology. This is thought to mean that Samsung has finalized the specifications of its 10nm chip manufacturing process.

Although we're obviously looking forward for Samsung to use 10nm chips in upcoming smartphones, the advantages associated with this technology could make their way in other devices as well, such as wearables, networking equipment, or data center hardware.

Rumors have it that the late 2016 estimate for Samsung's new 10nm chips mean that Apple might be able to use the new manufacturing technology in its 2017 smartphones and tablets. As with all rumors, make sure to treat this one with a dose of skepticism.
TSMC, Samsung's biggest rival as far as Apple chip orders are concerned, was recently rumored to start
testing its 10nm FinFET chip manufacturing technology as early as next month
, with mass manufacturing rumored for 2016 at an unspecified date. Although Samsung has started mass manufacturing 14nm chips back in February, TSMC will only start mass producing chips using its 16nm node process in about a month's time.