Samsung opens a retail store inside Phones 4U
6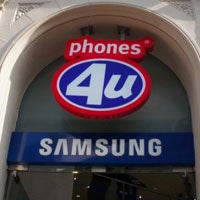 A week or so ago Phones 4U put up a giant window display that simply had both Phones 4U and Samsung's logos with the words "Coming 30.03.12". While quite a few people out there had their hopes up for a product announcement such as the Galaxy S III - that is apparently not what this is about.
Instead, Samsung and Phones 4U have teamed up to offer a store within a store. The Oxford Street Phones 4U store in London now has a Samsung store inside. The Samsung store is chock-full of Samsung's smartphones and tablets.
The store features a minimalistic design with no price tags or carrier advertisements littering the demos. The window displays feature some of Samsung's flagship devices in glass cases, as well as hanging TVs that display branding messages. In addition to Samsung's full line of phones and tablets, there are a variety of accessories available for purchase.
Simon Stanford, vice president of telecommunications and networks at Samsung said, "As well as being able to buy products, we want the store to be an immersive and enjoyable experience for our customers."
Samsung has also said that it intends to use this space for celebrity appearances and future product launches. So while this time around there is no Galaxy S III announcement, when it finally happens, we just might see it happen in London.
source:
Engadget