Samsung introduces slim slew of new devices during Cebit 2006
0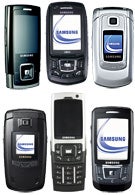 At CEBIT 2006 Samsung showcases several new products, as always, and one of them is a new slider GSM phone. The SGH-D870 is the successor of the popular D600 and D500 but is much thinner – 13 mm (0.5") making it the thinnest slider phone until now. It has 262k color QVGA (240x320) and 3-megapixel camera, to compete with Sony Ericsson K790/K800 which was announced several weeks ago. The D870 features Bluetooth, with A2DP (stereo audio) support, has 80MB of memory with microSD slot and TV-out port. Unfortunately the D870 is tri-band only (the D600 was quad-band unit) and will not be released in the US. It measures 4.1 x 1.61 x 0.5 inches (103.5 x 41 x 13mm)
| | |
| --- | --- |
| | D870 |
SGH-D780 is a clamshell with dual-color displays and 2-megapixel camera. It has music player with support of various music formats and dual stereo speakers and external music keys (on the front cover). Unfortunately its memory size is limited to 80MB.
| | |
| --- | --- |
| | D780 |
SGH-E900 is a stylish slider phone with multimedia features. It is tri-band GSM/
EDGE
phone and has 2-megapixel camera. The display is a QVGA unit displaying up to 262k colors. 80MB of memory expandable through microSD cards are available to the user for storing of images and music files, which can be played in the music player
| | |
| --- | --- |
| | E900 |
Samsung loves the sliders. The SGH-Z550 is also a tri-band GSM/EDGE slider phone but adds 3G with 2100MHz UMTS support. Of course video calling is supported and it has camera on the front for it. The main camera is 2-megapixel with display being 2" 262k color QVGA one. The memory is 138MB, expandable with microSD cards. Z550 features music player with stereo speakers.
| | |
| --- | --- |
| | Z550 |
SGH-Z400 is also a tri-band GSM and UMTS slider and as other Samsung phones it has QVGA 262k display and 2-megapixel camera. Of course music player with various formats is present and the memory (30MB) can be expanded through microSD.
| | |
| --- | --- |
| | Z400 |
The Z520 is in clamshell design and operates in GSM/UMTS networks (tri-band GSM plus EDGE). It has 2" 262k display with QVGA resolution and 2-megapixel camera. The music player can be operated through music-dedicated keys on the front and can play through stereo speakers. The 40MB of memory can get bigger with a microSD card.
| | |
| --- | --- |
| | Z520 |
Source:
Samsung