Samsung confirms that tethering & mobile hotspot will be a go with the Sidekick 4G
8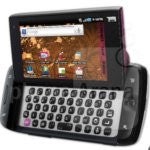 As we continue to see more 4G enabled devices hitting the market, it's only fitting to assume that contemporary features like mobile hotspot and tethering to be on board. However, it was unspecified whether or not it was coming to the messaging focused T-Mobile Sidekick 4G.
Finally seeing a major reboot to the series, Samsung has confirmed that the T-Mobile Sidekick 4G will
support tethering and mobile hotpot
from the start. Moreover, it will ship with a
2GB microSD card
which supplements the built-in 1GB of internal storage. Being an HSPA+ enabled device, the inclusion of tethering and mobile hotspot functionality will undoubtedly be an appreciated thing for potential future owners.
Aside from that, there still isn't a confirmed date on when the handset will launch. However, it should only be a matter of time before it's known – even more, we might hopefully hear something about it during CTIA 2011.
source:
Phonescoop