Samsung buys Boxee; aims at Apple TV and Roku?
3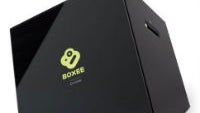 It looks like TV really is the next big battleground for tech companies, and having great software to connect your living room experience with your mobile device is going to be key. With that in mind, Samsung has agreed to purchase Boxee, one of the more popular media streaming companies around.
The price hasn't been made official, but it is said that Samsung will pay less than the $30 million that Boxee had set as an asking price. Samsung's official statement on the matter reads:
Samsung has acquired key talent and assets from Boxee. This will help us continue to improve the overall user experience across our connected devices.
Of course, Samsung already has its own solutions as far as smart TV software is concerned, but Boxee will certainly help to bolster that offering. It should also be noted that Samsung has not adopted Google's own Android-based Google TV for its smart TV systems. The only hardware manufacturers to really get behind Google TV have been LG and Sony, and adoption has been slow. So, the real targets in Samsung's sights are Apple TV and Roku.
The details are scarce, but it sounds like the entire 45-employee staff of Boxee will be brought into Samsung. And, the big news would be that Boxee hardware, which had been built by D-Link, is likely to be moved into Samsung's hands.