Samsung announces the S5550, S5350 and S3550, the first models of the Shark range
0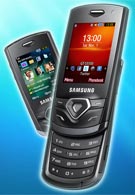 Samsung has introduced three feature phones that rely on a proper blend of likeable overall look and applications for social networking to win over customers. Meet the S5550, S5350 and S3550, the first members of a new line-up called the
Shark
Series. The three handsets are expected to roll out by the end of this month, but there is still no information on what countries whey would appear first in. As far as we know and given Samsung´s market policy remains the same, the new device range will probably not be called the Shark Series everywhere and the name will depend on the particular region.
The
Samsung S5550
(called the Shark 2) is a slider phone that
we have already told you about
. It will feature 2.2-inch AMOLED display, 5-megapixel camera with LED flash, 3G support, 110MB built-in memory, microSD slot and Bluetooth. We are pleasantly surprised by its metal back with unique rugged pattern.
Samsung Shark 2 S5550 Specifications
Nicknamed the Shark, the
Samsung S5350
is a classic candybar with thin body (11.9mm), 2.2-inch QVGA screen, asymmetrical design, metal coating and
3.2
-megapixel camera with video capture capabilities. The other features include 3G support, Bluetooth and microUSB port. Aside from allowing for fast access to various social networks, the Samsung S5350 will come with several pre-installed chat clients like Google Talk, AIM and Palringo.
Samsung Shark S5350 Specifications
The
Samsung S3550
(or the Shark 3) is a slider with the same overall design as the S5550, but with inferior functionality. The list of features includes 2-megapixel camera, 2-inch QVGA display and 40MB built-in memory. Its back will be made of metal, so as the handset might feel sturdy and reliable in your hand, despite being just an entry-level cell phone.
Samsung Shark 3 S3550
Specifications