Samsung Rugby III for AT&T is announced offering military-grade durability and Enhanced PTT service
8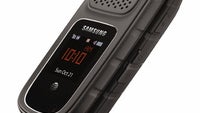 Stand back, kids, and hide away those fancy-pants smartphones of yours. The Samsung Rugby III has just been announced, offering military-grade resilience to the elements paired with Enhanced PTT service from AT&T. The fifth-gen Rugby series phone can survive all kinds of torture, including drops and shock, all the while being highly resistant to water and dust damage.
Flip the Samsung Rugby III open and you'll be greeted by a 2.4-inch QVGA display. There is a 3-megapixel camera on its back side, and a GPS radio can navigate your way around with the help of AT&T Navigator. There is a dedicated PTT button on the handset's side for convenience.
The Samsung Rugby III will be available on December 14, priced at $99.99. Organizations, however, can pick up the device for free by signing up for a two-year Enhanced PTT contract. Pre-orders for the Rugby III will be open to business customers starting November 30. Check out the press release below for further information.
AT&T to launch Samsung Rugby III Dec. 14
Pre-sales for AT&T Business Solutions Customers Begin Nov. 30
DALLAS, Nov. 30, 2012 – Beginning Dec. 14, AT&T* customers looking for a tough phone that stands up to the elements will have one more choice with the Samsung Rugby® III for $99.99 with a two-year agreement. This rugged flip phone is the fifth generation device in the Rugby series from Samsung and is compatible with AT&T's Enhanced Push to Talk (PTT) service, which enables business users to communicate faster, to larger talk groups, and across more types of handsets than ever before.
On Nov. 30, business customers with an AT&T account will be able to pre-order the Rugby III through their AT&T account lead or through their Premier online account: www.wireless.att.com/business. With a two-year Enhanced PTT contract, organizations can pick up the device for free.
The Rugby III features a 2.4-inch QVGA display, a 3 megapixel camera and includes a dedicated PTT button on the phone for easy access. It is built to military specifications (810G specifications) and is waterproof, dust proof and shock resistant.** It also offers one-touch access to GPS Navigation through AT&T Navigator.*** In addition, the Rugby III supports a variety of mobile resource management applications from AT&T. These apps can help businesses and organizations increase visibility into their field operations, monitor the location and activities of their employees and improve responsiveness and productivity. From the campsite to the jobsite, the Rugby III fulfills all the instant communication needs with the physical strength to handle whatever life throws at it.
"Fifth in our line of rugged devices from Samsung, the Rugby III joins the Samsung Galaxy Rugby Pro™ in AT&T's current portfolio," said Jeff Bradley, senior vice president- Devices and Developer Services, AT&T. "Since it launches with Enhanced PTT, the Rugby III helps make communicating even easier than before so businesses can operate more efficiently and effectively."
Key features of AT&T Enhanced PTT include:
Larger contact lists and talk groups than competitive PTT solutions
Ability to combine PTT services and mobile applications, with help from AT&T's team of mobility consulting and integration experts
Supervisory override and talk group scanning, features that were previously available only for two-way radio users
Sub-second call setup
Organizations interested in AT&T Enhanced PTT can choose from two different rate plans:
$5 per month when added to existing AT&T voice and data plans, starting Dec. 6.
$30 per month for a PTT-only rate plan (no voice or non-PTT data included).
Both plans include unlimited PTT, and data used by the Enhanced PTT application will not count against the customer's monthly data totals or incur pay-per-use charges.
*AT&T products and services are provided or offered by subsidiaries and affiliates of AT&T Inc. under the AT&T brand and not by AT&T Inc.
** Meets US Mil-STD 810G for Dust, Humidity, Rain, and Shock. Waterproof against incidental exposure to water when all ports are tightly closed. NOT designed or intended for in water use. Submersible up to 1 meter for up to 30 minutes. Waterproof based on IP67 rating.
*** Subscription required.