Samsung's upcoming rugged smartphone looks robust, yet old
2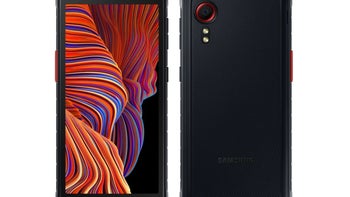 Samsung
's rugged smartphones usually look like they're coming from another era, and it's not just about what's on the outside. It feels like the South Korean giant is using leftovers when it comes to hardware, which is why the
Xcover series
has always been equipped with a few years old chipsets.
One could argue that the purpose of these phones is to be sturdy above all else, so what's inside them shouldn't matter that much. However, having old hardware on a new phone doesn't look good even if your target is that concerned about what's inside their device as long as it's sturdy enough.
Take Samsung's upcoming rugged smartphone, the Galaxy Xcover 5,
a device that we knew about since January
. First off, the Galaxy Xcover 5 looks solid enough on the outside, but kind of retro if we compare it with today's mid-range Android smartphones. To be fair, the pictures leaked by
Winfuture.de
show a phone that looks like a brick, no more, no less.
But design should be the last thing that people interesting in rugged phones should be concerned with, and so, let's take a look at what's inside. As expected, the Galaxy Xcover 5 is equipped with a 2GHz octa-core Exynos 850 processor, a chipset that made its debut back in 2019. The old CPU is paired with 4GB RAM and 64GB expandable storage.
Furthermore, Samsung's upcoming rugged phone sports a 5.3-inch HD+ display protected by
Corning Gorilla Glass 6
. Obviously, the Galaxy Xcover 5 is IP68 and MIL-STD-810G certified, which means it should offer decent protection against water dust, and accidental falls.
The phone also packs a 16-megapixel camera on the back with a LED flash, as well as a 5-megapixel secondary camera in the front. As we previously reported, Samsung Galaxy Xcover 5 will run Android 11 right out of the box and will be powered by a 3,000 mAh replaceable battery.
As far as the price goes,
Winfuture.de
claims the Galaxy Xcover 5 will be available for purchase in Germany for slightly less than €300. We will most likely be seeing the Galaxy Xcover 5 in the US too, but it remains to be seen when exactly and how much it will cost.