Samsung Galaxy S8 to be dealing away with the camera bump?
34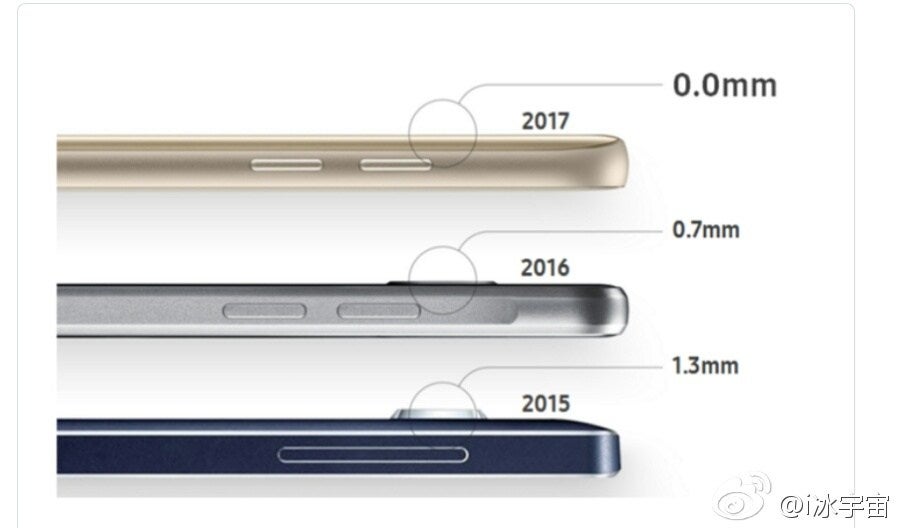 This image, posted on Chinese social network Weibo, compares camera "bumps" between the Galaxy S6, S7, and the upcoming Galaxy S8. If the image is legitimate, then the Galaxy S8 will have its camera completely flush with the body, making for a streamlined and harmonious look. However, the comparison has the Galaxy S6 camera bump wrong – it's actually 1.7mm, and the one on the Galaxy S7 measures 0.8mm. So don't be quick to accept the image as credible, because whoever made it clearly hasn't done their homework... unless we are looking at part of a leaked genuine Samsung presentation, which would be a bit awkward.
According to previously leaked dimensions, the Galaxy S8 will measure 5.51 x 2.84 x 0.28in (140.14 x 72.20 x 7.30mm), making for a thinner and shorter handset than the Galaxy S7. At the same time, Samsung is said to be fitting a larger display in the Galaxy S8, so the overall design progress could very well stretch to the camera bump as well and eliminate it.
The latest talks point towards a March 29 announcement for Samsung's new Android heavyweights – the Galaxy S8 and whatever its plus-sized companion ends up called. We probably won't have to wait until then for a proper glimpse at the handsets, as someone with good connections and a camera on them will likely spoil the surprise for everyone.
ALSO READ