Samsung Galaxy S8 design revealed in official Secure Folder app
2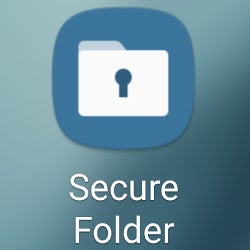 So, you may or may not remember that the ill-fated
Galaxy Note 7
launched with a special Secure Folder feature. It allowed users to create a... well – a secure folder – which was unlockable only via the fingerprint sensor or retina scanner. It was meant to hold private notes, contacts, pictures, documents, and any sort of files really, separate from the rest of the contents on the device.
A couple of months ago, Samsung promised that
Secure Folder will be coming
to the
Galaxy S7
and
S7 edge
after the
Android 7 Nougat update
is pushed out. While the app isn't officially out yet, Samsung-centric website SamMobile has managed to get its hands on a build of Secure Folder and test it out.
When launching the app for the first time, we get a short introduction of its features with a drawing of a phone showing Secure Folder doing what it does. And lo and behold, the device we see has outlines that are very, very similar to all the
Galaxy S8
leaks
we've been getting thus far
.
The new Samsung flagship has been smiling for the camera left and right, revealing very, very thin bezels surrounding its large, double-curved display. And while these leaks might have been questionable at first, the sheer amount of them makes us more and more confident that this is the Galaxy S8's design. Now that we see it in an official Samsung app, we've got a pretty solid reaffirmation of the previous photos.
With the LG G5 also being rumored to have very minimalistic borders around its display, and a mysterious "all screen" iPhone 8 constantly churning in the rumor mill's gears, we are wondering — could 2017 be "the year of no bezel"?
Download Secure Folder .apk
source:
SamMobile