Samsung Galaxy S7 before and after the Android Nougat update: here's what's changed
33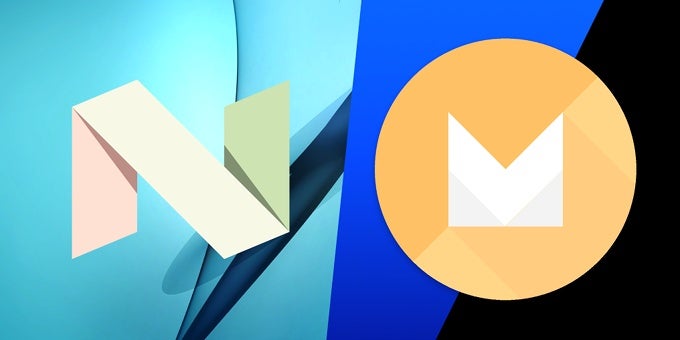 By now, some of the Galaxy S7/S7 edge users out there have probably got hold of the latest Nougat-infused firmware that Samsung started rolling out more than a week ago. Alas, those sporting a carrier-branded version of either the Galaxy S7 or S7 edge will have to wait a bit longer for their respective carrier of choice to release that coveted Nougat update.
Of course, one can always sideload the official Nougat firmware on their device pretty easily, but we usually advise inexperienced users with little to no knowledge in
"firmwares", "flashing",
and
"Download mode"
to stay away from such arduous practices. It's better to wait than to mix something up and be left with a non-working phone, right?
Anyway, we got Nougat on our Galaxy S7, so we thought we should highlight what the major changes and new features are. And believe us, there are plenty of new changes to talk about!
New vs old
Quick settings and notifications
There's no second opinion, the notification shade is one of the areas that have been overhauled the most, all for the good reasons. The height of the notification panel has been greatly reduced, while the size and the styling of the Quick Toggle icons have also been revised in order to achieve a more streamlined and clean look of the panel in question. The traditionally large date and clock that used to grace the left portion of the notification shade have also had their overall size reduced, which further saves lots of space. The overall design is similar to the one that made a debut on the Galaxy Note 7. Check out how it looks now and what it used to look like before.
Bundled notifications are one of the key features of Android Nougat and we are thankful that Samsung has adopted without any major changes. Now anytime you receive a bunch of notifications from one and the same app, they will get bundled together in an unobtrusive way. Unlike the way notifications were handled on the Note 7, the Nougat-flavored firmware on the Galaxy S7 displays these in a way more sleeker way, which is always nice in our book!
App switcher & split-screen multitasking
The Nougat update tweaks the appearance of the carousel app drawer slightly. The headers of the app cards are now slightly smaller and less obtrusive. You can still have up to 4 apps' cards displayed at the same time, though. The redesign of the "Close All" button is also a small, but welcome change that makes the interface appear more mature.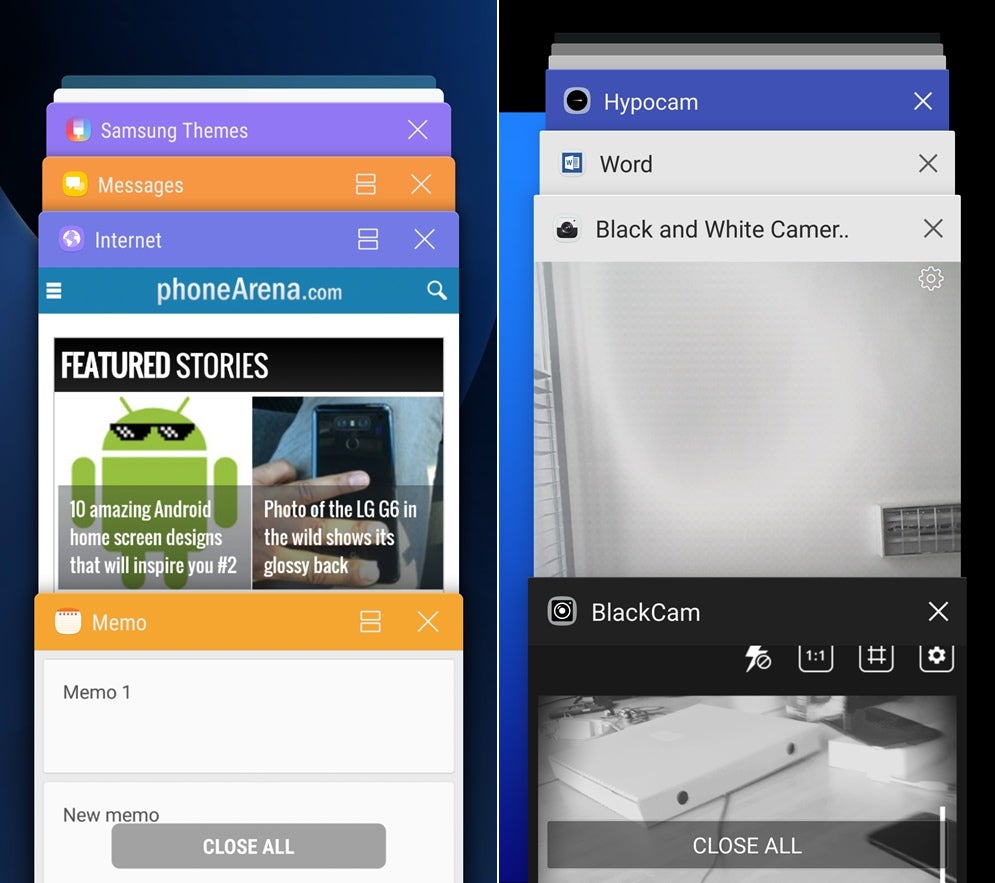 Galaxy S7 w/ Nougat (left), Galaxy S7 w/ Marshmallow (right)
Multi-tasking is now a standard and integral part of Android, but Samsung has had a split-screen functionality of the same type for years. This doesn't mean that an old horse can't learn new tricks, as Samsung has once again applied a streamlining brush to the way multitasking interface. You still launch multitasking the same way you did before, but now you can only swap or close the two windows on the screen. The option to open one of those in pop-up windows is still here, though. In contrast, you previously could do all this as well as expand and windows and minimize them to chat heads, as well as copy-paste text between those.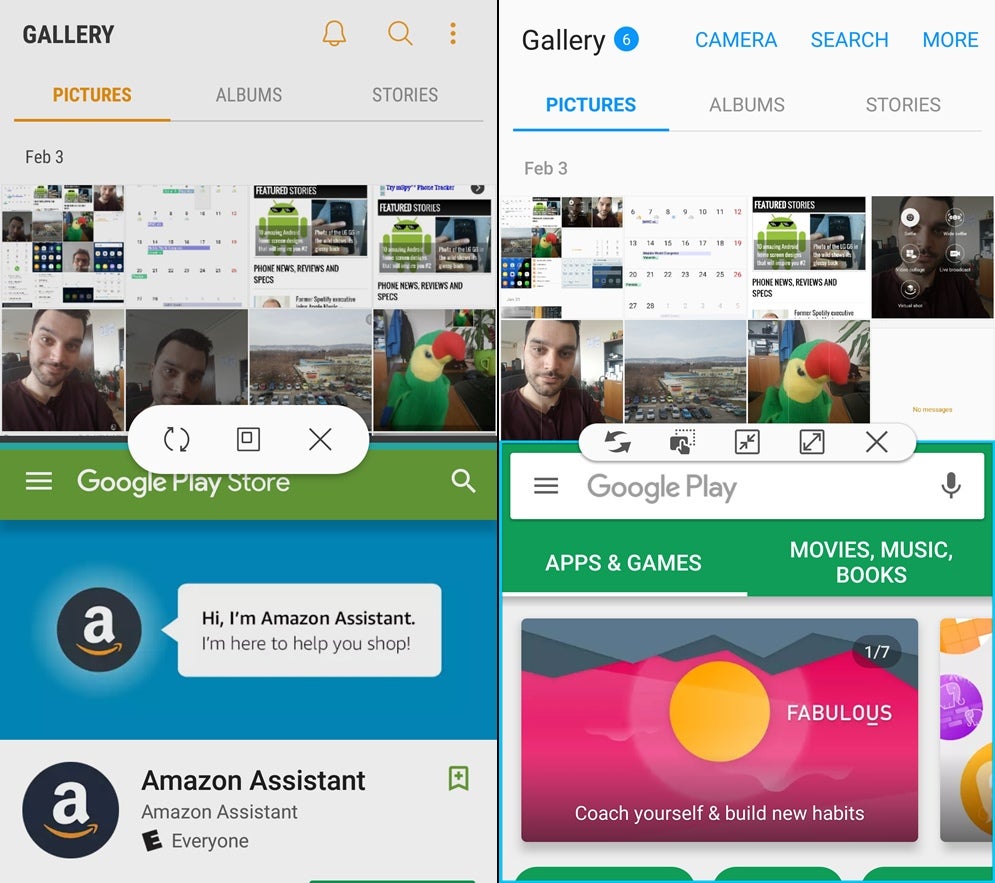 Galaxy S7 w/ Nougat (left), Galaxy S7 w/ Marshmallow (right)
Settings
Back in the day, Samsung's main settings menu were overwhelmingly complicated, with numerous features hidden here and there and hierarchy that often made little sense. For the past year or so, however, Sammy did not only streamline this vital part of its software but also did away with numerous intricate features and functionalities that hardly anyone misses anymore. The S7 does not stray away from this trend. We're glad to see the sleek design of the Note 7's Settings menu make a comeback on the Galaxy S7. With a slightly updated iconography, it's now a joy to look at and is arguably way more intuitive than the Marshmallow one. The shortcuts at the top of that one have been ditched (good riddance!) making the whole settings-changing experience a more pleasing one.
Here's how it looks now and how it used to look before.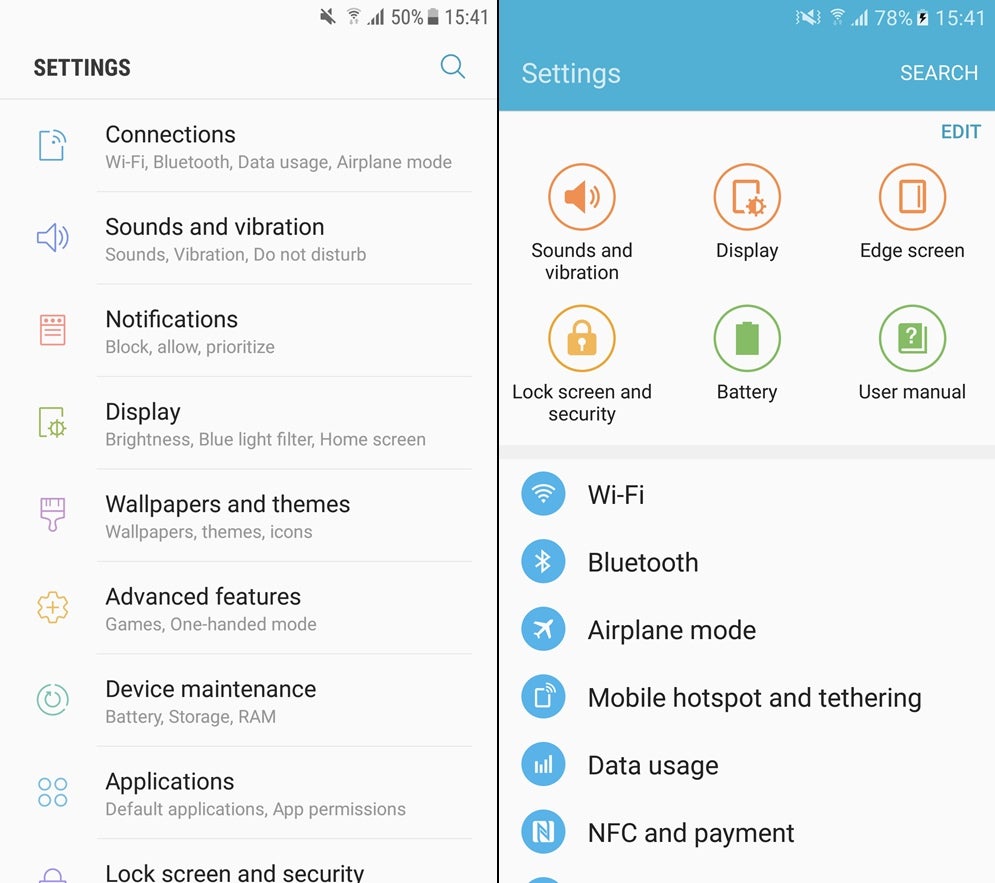 Galaxy S7 w/ Nougat (left), Galaxy S7 w/ Marshmallow (right)
And now, to put things in perspective, we thought it will be cool to visualize the massive overhaul of the Settings menu hierarchy. We made two long screenshots of the full menus of the Nougat firmware on the Galaxy S7 and its way longer Marshmallow predecessor. Check them out right below.
Iconography, home screen, app drawer, and folders
Albeit the changes are mostly rather subtle ones, a careful inspection reveals that Samsung has once again decided to touch-up the stock icons. The new squircle ones sport a more consistent flat look that not only makes them less obtrusive and more appealing.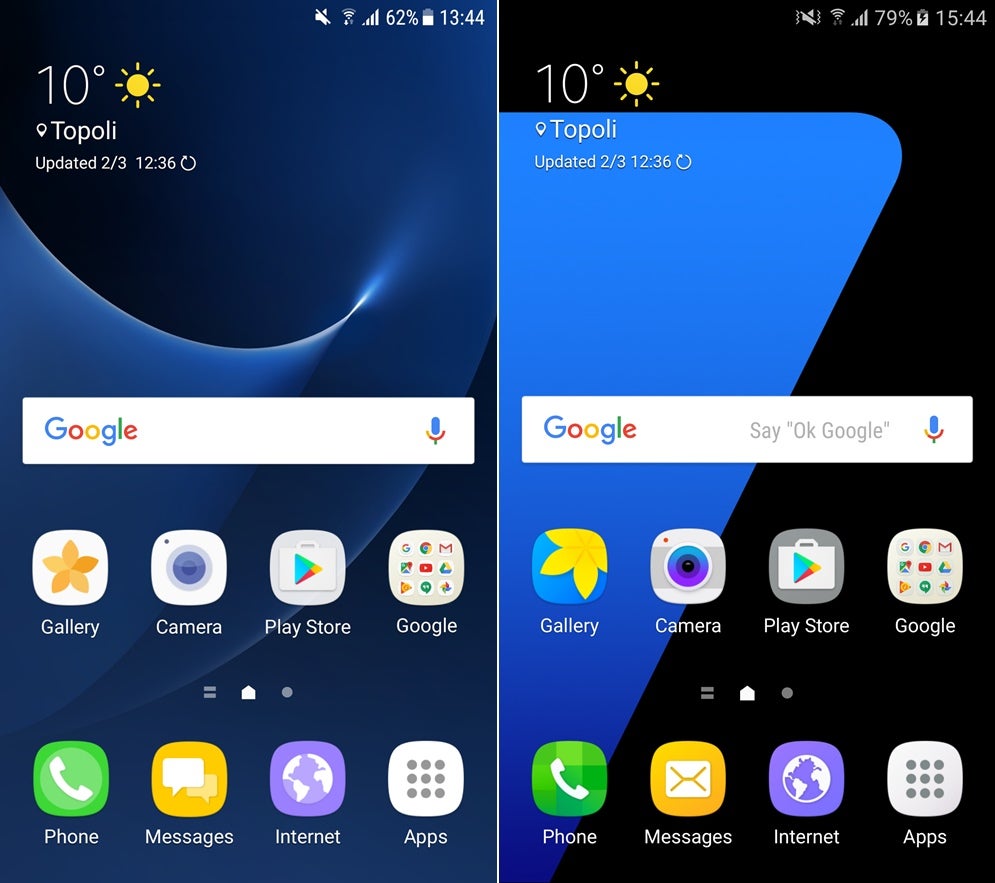 Galaxy S7 w/ Nougat (left), Galaxy S7 w/ Marshmallow (right)
As far as the home screen changes are concerned, we spotted only one - Samsung has bundled up the wallpapers and themes menus together in the screen configuration menu, which is accessible by long-pressing an empty space on your screen.
The app drawer has been changed a lot, though. There is now a search bar at the top, which allows you to find that one app by keying its name or searching for it with your voice. The Sort and Edit menus of the old interface have been both tucked away in an unobtrusive three-dot menu. This further streamlines the interface and we like that very much. The background is now blurred, too, which gives the whole thing a trendier appearance.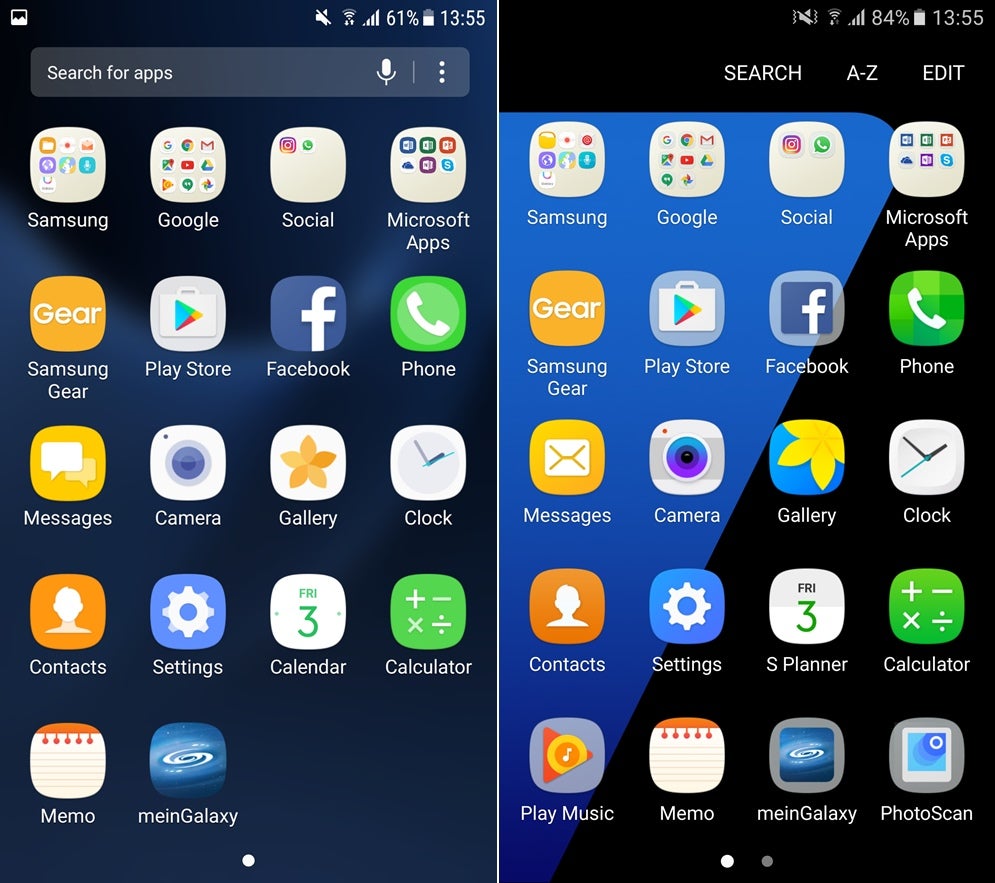 Galaxy S7 w/ Nougat (left), Galaxy S7 w/ Marshmallow (right)
As far as folders go, these now sport a transparent slightly blurred background that's arguably more appealing than the previous execution. Folders used to have white more opaque backgrounds; thankfully, users can still change the background of the folder icon. A picture is worth a thousand words - you can check out the differences we discussed right below.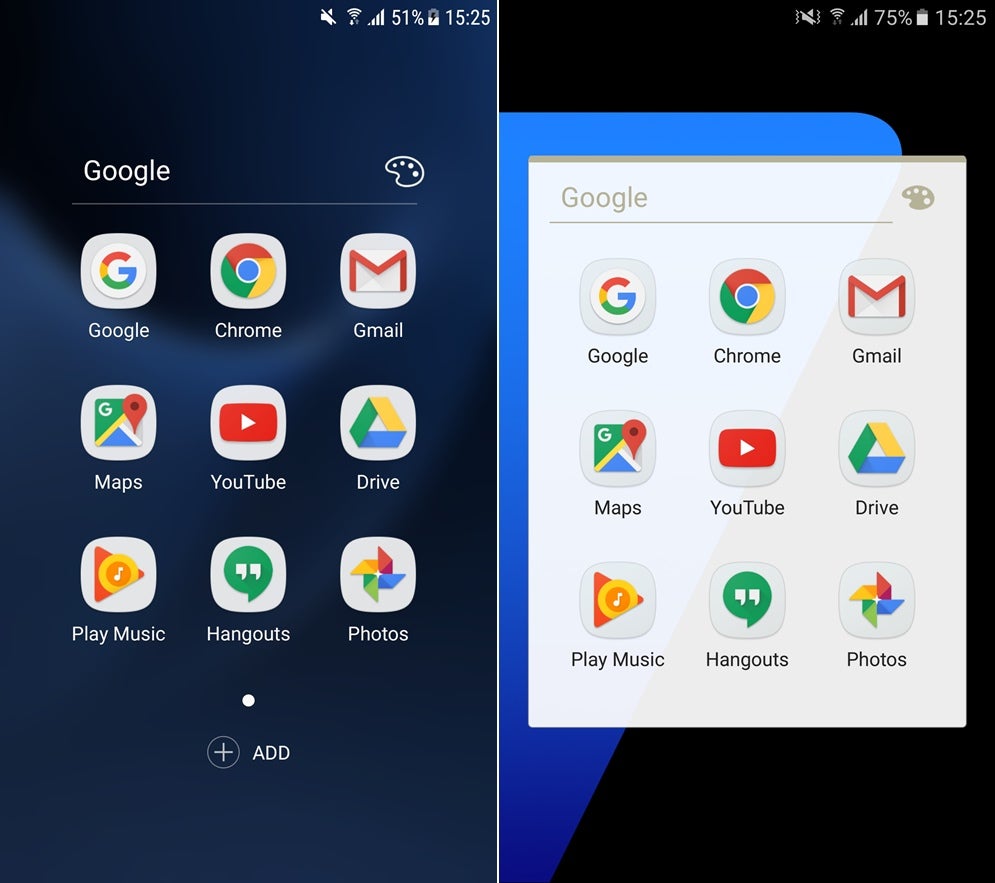 Galaxy S7 w/ Nougat (left), Galaxy S7 w/ Marshmallow (right)
Stock apps
The overhaul of the interface spans all the way to the suite of stock apps that you will likely use the most - Phone, Messaging, Email, S Planner, and the stock Samsung browser. All of these have scored flatter, more streamlined interfaces, with slightly revised button layouts and text style.
Camera
A regular Joe will likely find the changes in the camera interface the most striking among the bunch. In case you have seen what the Note 7's camera interface looks like, then you already know what the Galaxy S7/S7 edge will be treating you to with Nougat. Aside from the slight text style change, Samsung has directly transplanted the Note 7's interface to the Galaxy S7.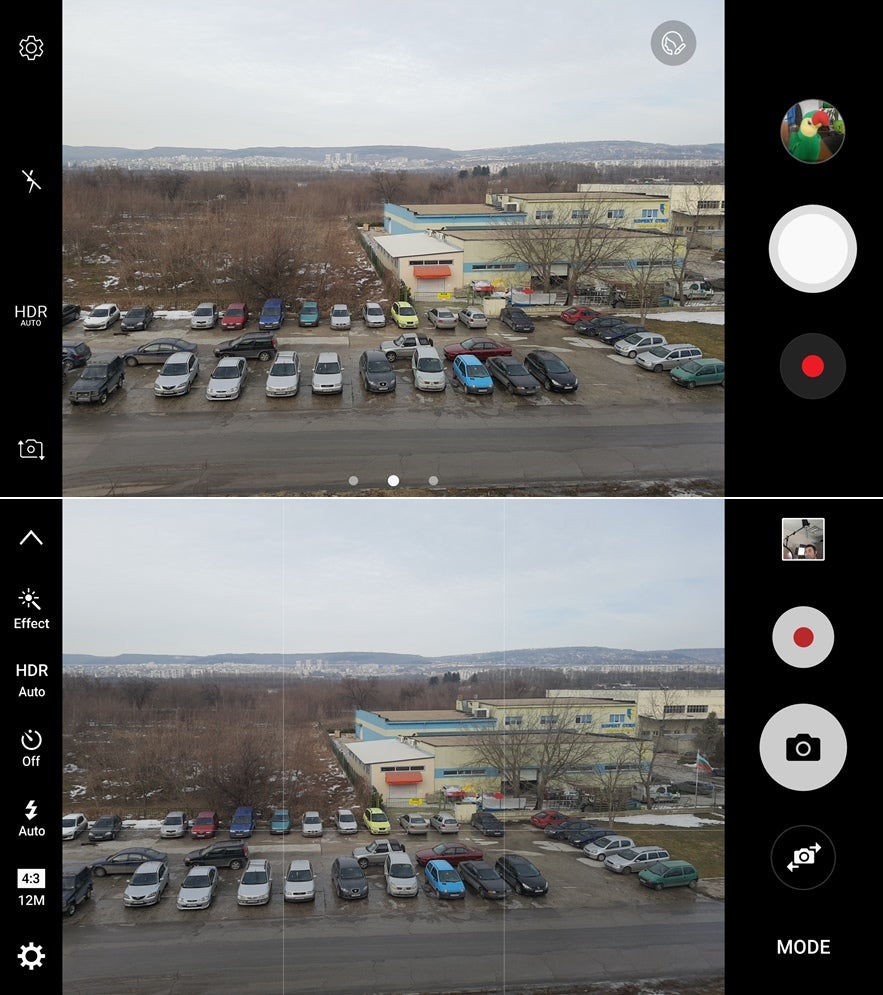 Galaxy S7 w/ Nougat (top), Galaxy S7 with Marshmallow (bottom)
The interface is now mostly gesture-oriented: you swipe up or down to change cameras, left for camera modes, and right for filters. You will only have to meddle with old-school buttons when you want to change enable/disable HDR, the flash, or access the settings menu of the camera. All in all, the camera app is now a joy to use and looks way sexier than before (if stock apps can look sexy, that is).
Other new features
Nougat on the Galaxy S7 brings a bunch of features that weren't previously available. Chief among these is a feature that you would probably want to change immediately after you update your device. We are talking about none other than the brand new screen resolution feature, which basically lets you choose between 720 x 1280 HD mode, 1080 x 1920 Full HD mode, and the native 1440 x 2560 Quad HD mode. This option defaults to Full HD once you update your device, though you'll probably hardly notice that unless you inspect your display settings menu carefully. You'd probably want to switch that to the native Quad HD if you want to make full use of your screen prowess.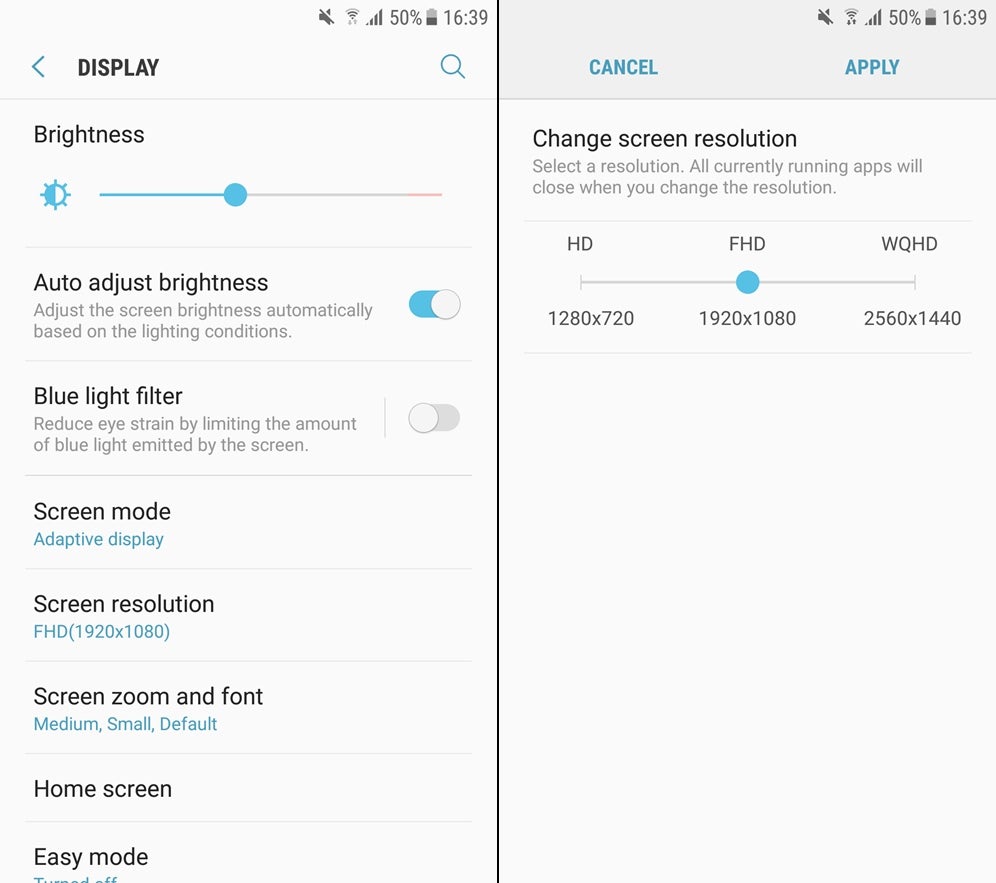 There is also a bunch of new "High performance" mode that sets your display to Quad HD and increases the maximum brightness of the phone by 10%. Needless to say, doing that will shorten your battery life. The are also Game mode, which sets the resolution to Full HD, also increases the brightness, and enables Game Tools and Game Launcher, as well as Entertainment mode, which sets the display resolution to Quad HD and enables Video enhancer and UHQ Upscaler. Those two are a pair of features that aim to improve the quality of the video and audio you're about to consume.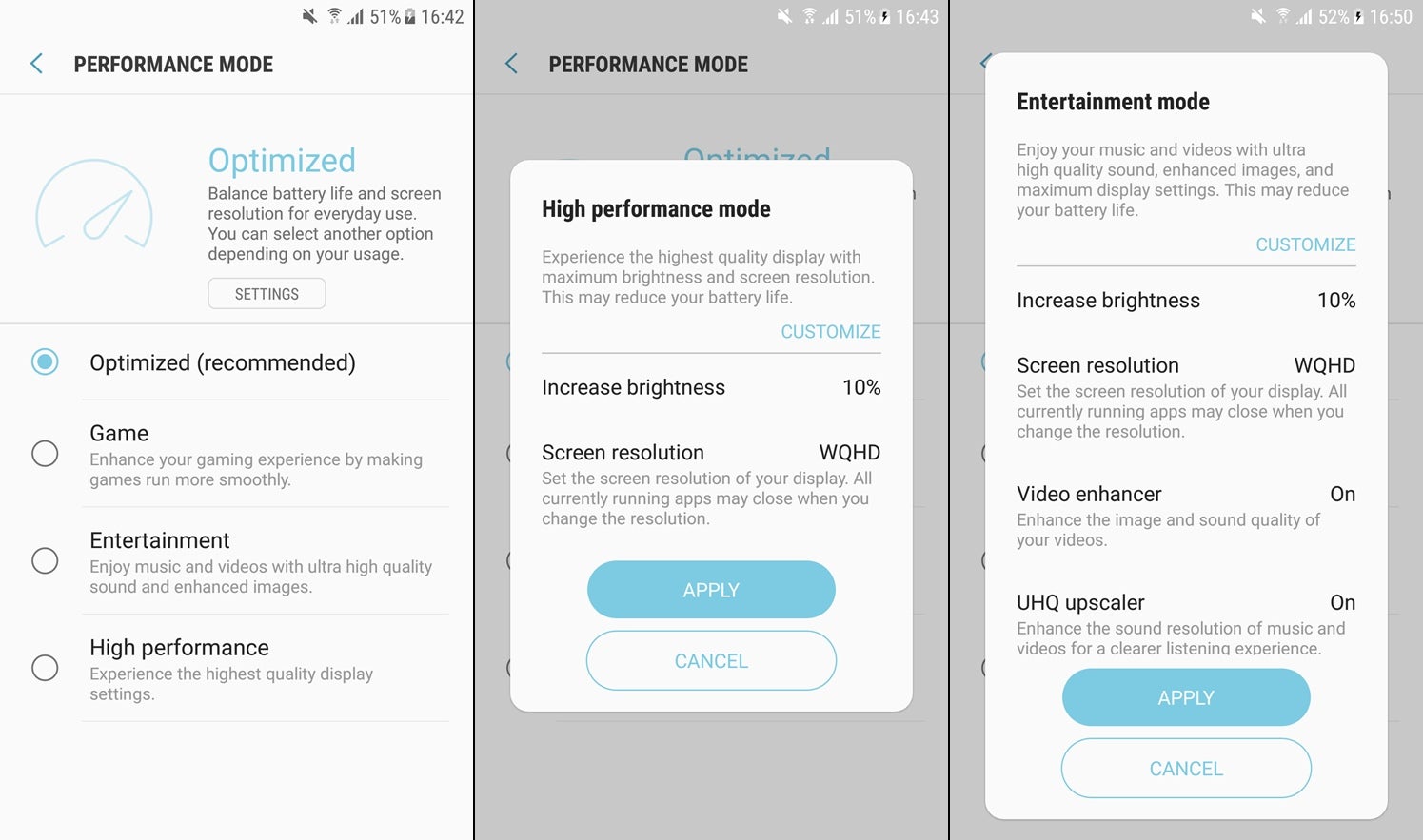 Oh, and there's a new screenshot-grabbing interface, which allows you to draw on your screenshots. Fortunately, the Crop and scrolling screenshot modes are still on board.