Samsung Galaxy S7 specs possibly exposed in leaked presentation slide
83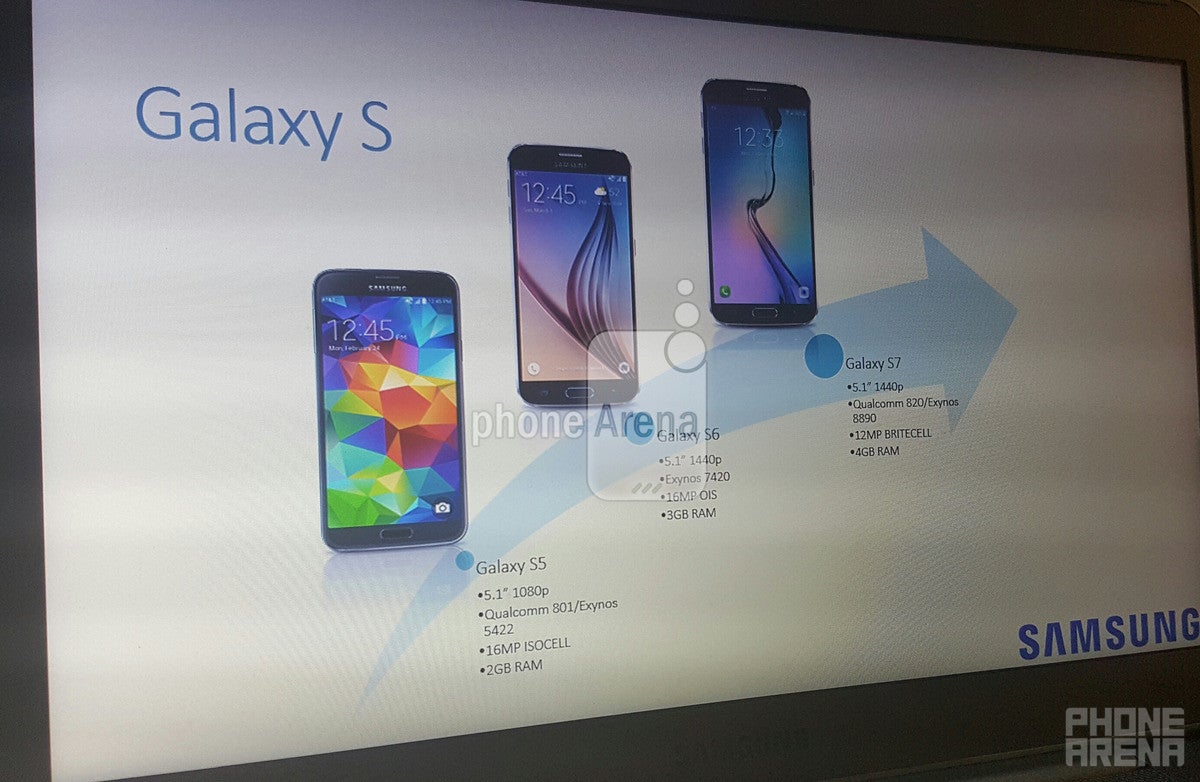 Presentation slide possibly exposing Galaxy S7 specs
Rumor has it that we're less than a month away from the Galaxy S7 announcement. Samsung's next flagship will likely make an appearance at MWC 2016, which is scheduled to take place in Barcelona between February 22 and February 25. And since Galaxy S phones are known to generate quite a lot of excitement, it comes as no surprise that Samsung Galaxy S7 rumors have been pouring over the past few weeks. In fact, here's a little something that was just slipped under our own door.
We're sure that you've already noticed the image above. It was sent to us by an anonymous source who claims to be a Samsung employee, and while we can't call it a fake right away, we can't guarantee its authenticity either. With this disclaimer laid out, the photo appears to reveal specs for the Galaxy S7 – a 5.1-inch 1440p display, a 12MP BRITECELL camera, and 4GB of RAM. Both the Snapdragon 820 and the Exynos 8890 chips are being mentioned, which suggests that the Samsung Galaxy S7 may have one of the two SoCs inside it, depending on the market – a practice that we've seen in the past. On a related note, the specs mentioned in the slide line up with what we saw recently in that supposed
Samsung Galaxy S7 benchmark
.
As for the "Galaxy S7" phone shown in the image, we're most likely looking at a placeholder. But we're hearing that the next great Galaxy phone will be very similar to the Galaxy S6 in terms of design. Therefore, it seems safe to say that what's shown in the slide isn't too far from the truth.
That's about all the information we can extract out of the image we were sent, assuming that we're looking at a real internal presentation, not at a forgery. For more details about Samsung's next flagship phone, take a look at our
Galaxy S7 rumor review
.
Thanks for sending this in!
Recommended Stories