Samsung Galaxy S Tab (Tab 3 Plus) specs and suspicious renders leak
42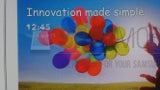 UPDATE:
After some more careful examination of the images, we noticed that the device actually has an earpiece, despite its landscape orientation. This should be enough to prove it's a fake. Sad face follows :(
Surprise, surprise! The mysterious Galaxy Tab 3 continues to be as elusive, though this time we might be dealing with one of its close relatives, namely the Galaxy Tab 3 Plus.
Sure, the Galaxy Tab series hasn't been among Samsung's biggest hits, but hey, it hasn't been that bad either. However, the company is yet to announce the third-generation Galaxy Tab officially, as everything we've seen thus far is only leaks and rumors. Well, here's another one!
Those Samsung freaks at SamMobile have received a couple of images, depicting a render of what the tipster claims to be the Galaxy Tab 3 Plus. To tell you the truth, the pictures don't seem believable at all, but anyway, we can't simply ignore them. As a whole, the device that we're looking at seems to be quite similar to something like the Note 8.0, but has a strange default landscape orientation, as both the logo and Home, Menu and Back buttons are all situated on the tablet's long sides. Interestingly, the tipster says that Samsung plans to release this devices with the name "Galaxy S Tab", due to the tremendous success of the Galaxy S line.
The unofficial source has also provided a specs sheet, which includes the following goodies: Exynos 5410 Octa CPU, Power SGX 544MP3 GPU, 2GB RAM, 10" 2560×1600 display, 8MP camera, 9000 mAh battery and IR blaster. How much of this is true, we do not know.
Take a look at the renders - what do you think of them? Could this be the Galaxy Tab 3 Plus / Galaxy S Tab or is it just a fake?
source:
SamMobile