Samsung Galaxy Note 9 vs Note 8, iPhone X, Pixel 2 XL: size comparison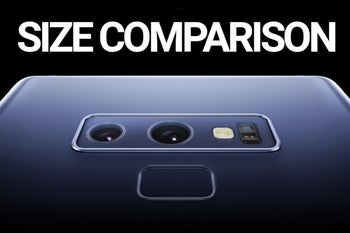 The
Samsung Galaxy Note 9
is finally official and it looks a lot like its predecessor, but what about those tiny details that differ?
Of course, we had to investigate and to illustrate the difference in size between the
Galaxy Note 9
and its note-worthy rivals like the Apple
iPhone X
, Google
Pixel 2 XL
,
OnePlus 6
and the rest, we are using our trust-worthy size comparison tool. Did you know that you can compare the size of any phone to any other phone yourself on our website? Just
click this link here and explore away
.
In the case of the Galaxy Note 9, we start our comparison by looking at how its size compares to other Samsung Galaxies...
Samsung Galaxy Note 9 vs Note 8 vs S9+ vs S9
Even bigger than the Note 8, but not by much!
Interestingly, the Note 9 is actually slightly bigger than last year's Note 8: it's a bit wider (76.4mm vs 74.8mm) and slightly thicker at 8.8mm compared to the 8.6mm. We'd gladly take that smidgen of added thickness in exchange for a much bigger, 4,000mAh battery, though! What has also increased is the weight and this is officially one of the largest phones Samsung has ever released.
Notice that it towers over the already big
Galaxy S9+
and simply dwarfs the tinier
Galaxy S9
. This truly is a giant phone!
Samsung Galaxy Note 9 vs iPhone 8 Plus vs iPhone X vs iPhone 8
Bigger than the huge iPhone 8 Plus, eclipses the iPhone X
The Note 9 looks massive when you compare it to the latest crop of Apple iPhones too. The
iPhone 8 Plus
is one of the biggest mainstream phones out there, but the Note 9 is even bigger, taller and thicker, and about as heavy as the Plus-sized iPhone.
And when you compare it to the all-screen iPhone X, well... the iPhone X just looks minimalistic! Of course, a bigger phone means a bigger screen, which results in higher productivity, but don't forget that if you carry it in your pocket, its weight will be noticeable.
Galaxy Note 9 vs Google Pixel 2 XL vs OnePlus 6 vs LG G7 ThinQ
Other Android flagships are no match, in terms of size at least
Predictably, the Galaxy Note 9 is bigger than other top-notch Android phones too. It's bigger than the
Pixel 2
XL, the OnePlus 6 and the LG G7, and it's also substantially heavier than all these phones.
Take a look at a visual comparison below: