Samsung Galaxy Note 4 will be launched in 140 countries by October's end
33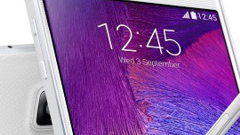 Samsung today officially confirmed that its
Galaxy Note 4
will be available to buy
in South Korea
(the company's home country) on September 26 - just as
previously reported
. The rest of the world will get the handset starting October, and Samsung is now saying that it plans to release it in no less than 140 countries by the end of next month. In the US, the new Note will be sold via Verizon, AT&T, Sprint, T-Mobile and US Cellular (for the beginning). All in all, this is going to be one massive launch.
Samsung has all the reasons to start shipping the Note 4 around the world as soon as possible - especially since, earlier this month, Apple announced and launched its iPhone 6 and iPhone 6 Plus, already
selling 10 million units
(in the first week-end of availability).
The Galaxy Note 4 represents the evolution of Samsung's Note series - which can be credited for popularizing phablets. Similar in size to the Note 3 from last year, the Galaxy Note 4 comes with plenty of improvements, including a more accurate 5.7-inch Super AMOLED display with 1440 x 2560 pixels, a metal frame around its edges, and a 16 MP rear camera with Optical Image Stabilization. Depending on market, the device is powered either by a quad-core Snapdragon 805 processor, or by an octa-core Exynos 5433 processor. Until we get the chance to review the new handset, you can check out our
Galaxy Note 4 hands-on
for more details about it.