Not pricey, yet elegant: Samsung Galaxy A30 is now (unofficially) sold in the US, 1-year warranty included
4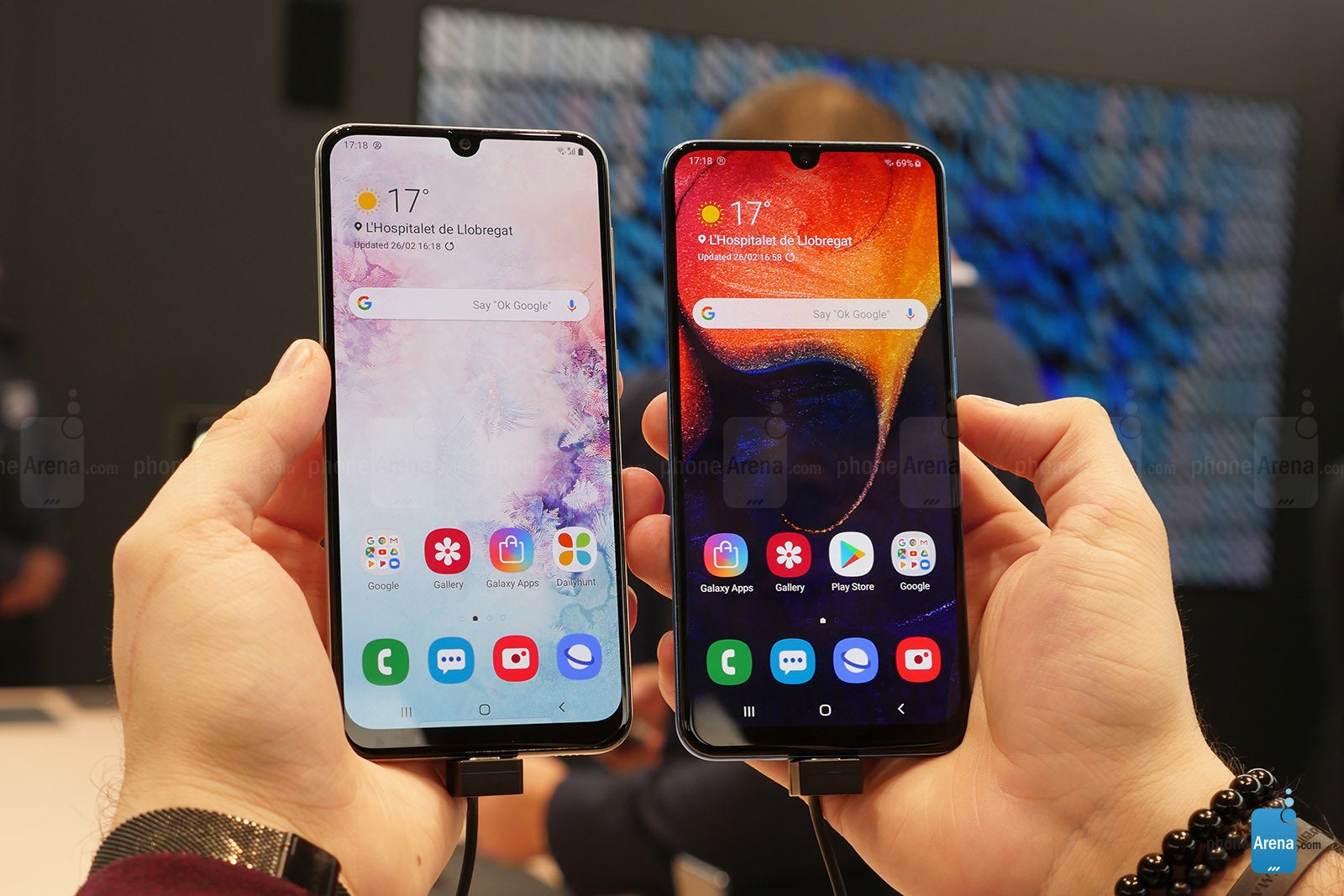 Samsung Galaxy A30 (left) and A50 (right)
Back in February, mere days after unveiling the high-end Galaxy S10 series, Samsung also announced a couple of new mid-range Android smartphones:
Galaxy A30
and
Galaxy A50
. While Samsung does not plan to release these two A-series handsets in the US, one of them can now be bought stateside thanks to popular retailer Newegg.
Unlike most phones that are unofficially sold in the US, which have no warranty at all, the Samsung Galaxy A30 comes with a 30-day warranty provided by Newegg. The retailer is also allowing you to return the device within 30 days if you're not happy with it.
Before discussing the price and features of the Samsung Galaxy A30, we must mention that this handset is unlocked but won't work on all US mobile operators. Specifically, the phone is compatible with GSM/LTE carriers like AT&T and T-Mobile (including their prepaid brands), but not with CDMA/LTE carriers like Verizon and Sprint. That being said, Newegg is selling the A30 for $229.99 - a pretty attractive price considering the smartphone's design and specs.
Update
:
B&H is selling the Galaxy A30
, too, offering 1-year warranty! The phone's price in this case is $249.99, but that's because B&H has a superior variant with 4 GB of RAM and 64 GB of internal memory.
The Galaxy A30 is a good-looking phone with decent features
Thanks to what Samsung calls an Infinity-U display - with a little U-shaped notch at the top and not-too-thick bezels all around - the Galaxy A30 looks pretty elegant. Speaking of the display, this is a 6.4-inch, 1080 x 2340 pixels Super AMOLED panel, which means the Galaxy A30 is about as large as a Galaxy S10+ or an Apple iPhone XS Max. In other words, if you're in need of a compact handset, you should look elsewhere.
Running the latest Android 9 Pie, the Galaxy A30 has a user interface that's similar to what you're getting on the Galaxy S10 lineup. Of course, the overall experience on the A30 isn't as smooth as on an S10 because the A-series handset is less powerful. The device packs an octa-core Samsung Exynos 7904 processor - a mid-range chipset providing decent but not stellar performance - and 3 GB of RAM that should be enough if you're not into heavy multi-tasking. When it comes to storage space, you're getting 32 GB of memory and microSD card support.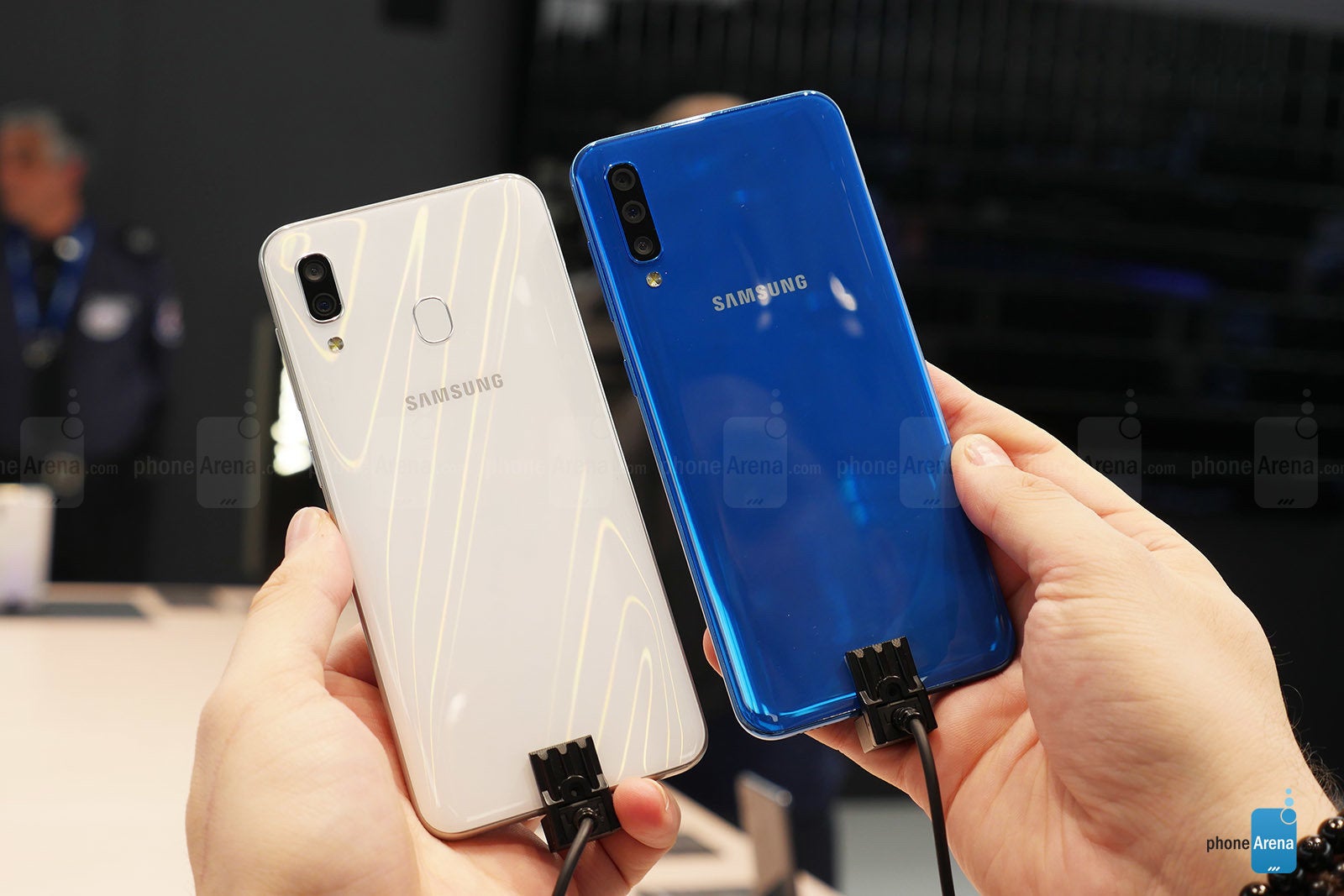 Samsung Galaxy A30 (left) and A50 (right)
The Samsung Galaxy A30 offers a dual rear camera (regular 16 MP + wide angle 5 MP) and a single 16 MP front-facing camera. Other features include a fingerprint scanner, a standard 3.5mm audio jack, dual SIM support, and a pretty generous 4,000 mAh battery. Mind you, this phone is not dust- and water-resistant, so you should be careful with it in unfriendly weather conditions.
Samsung needs to officially bring A30-like handsets to the US
Compared to each and every other affordable smartphone that Samsung has officially released in the US thus far, the Galaxy A30 stands out in a good way. For example, the best affordable handset that's currently sold by Samsung stateside is the
Galaxy A6
- this is more expensive (costing about $300), less feature-rich, and certainly not as good-looking as the A30. Just take a look at the two devices side by side: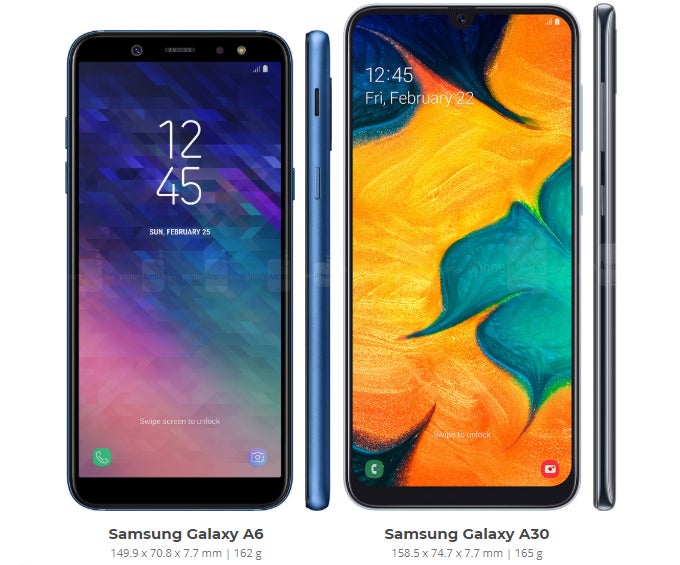 Hopefully, later this year, when Samsung decides to officially launch new affordable phones in the US, these will resemble the Galaxy A30, not the Galaxy A6. Because, you know, you shouldn't always have to spend north of $500 if you want a handset that's up to modern design standards.