Samsung Galaxy 550 coming to Virgin Mobile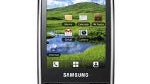 Virgin Mobile will be releasing the Samsung Galaxy 550, a smartphone running on Android 2.1, on November 20th with a new limited-time only plan made specifically for the device.
The Galaxy 550 comes packed with an LCD display, a 2-megapixel camera with video capture, and Swype software for faster text entry. The plan that will be exclusive for this device will cost $40 per month. Here are all the details of this limited-time only offering:
-300 any-time minutes
-100 MB of data
-Unlimited nights and weekends starting at 7 PM
-Unlimited local incoming calls
- Choice of unlimited text & picture messaging OR Voicemail 10 & Call Display
So this will be an Android phone with only 100 MB of data allowance. Doesn't seem like a lot, does it? The phone will launch in less than a week and should be a solid option for those who would rather avoid a contract but would like to enjoy all of the luxuries that a smartphone offers. Tell us what you think in the comments below.
source :
Mobile Syrup