Samsung Evergreen heading to AT&T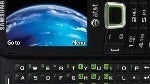 The Samsung Evergreen is a new eco-friendly phone destined for AT&T that is made from %70 post-consumer plastics and comes with a slide-out QWERTY keyboard.
The phone isn't the only thing that is made of recyclable materials. The packaging that it comes in is also made up of %80 post-consumer paper.
On the front of the Evergreen there is a traditional alphanumeric keypad. When the device is slid open, it has a four-row QWERTY keyboard. For every Samsung Evergreen sold, Samsung will donate $1 to Cell Phones for Soldiers.
The Evergreen is slated for November 7th release on AT&T. It will be offered for $29.99 after a mail-in rebate with a two-year activation. Tell us what you think in the comments below.
source:
Mobile Burn