Rovio HD games on sale for 99 cents this weekend
1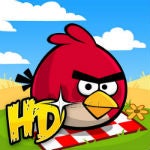 Tis the season to buy things that you probably would never buy normally because they're on sale and tell yourself that you're "saving money" even though not buying something always saves money over buying a sale item. And, with that in mind Rovio is putting the HD versions of its games on sale for just 99 cents this weekend in hopes that those of you who never bought any of their games will decide that 99 cents is a deal that's just "too good".
The sale runs from today until Monday, and it has the HD versions of Rovio games going on sale in the iTunes App Store, Google Play Store, and Amazon Appstore. That means: Angry Birds HD, Angry Birds Seasons HD, Angry Birds Rio HD, Angry Birds Space HD, Angry Birds Star Wars HD, Bad Piggies HD, and Amazing Alex HD will each cost just 99 cents.
As of this writing though, Bad Piggies HD for Android was actually showing up as free, so jump on that glitch if you want that game.